Pi Day & Pie Week - Lentil & Veg Filo Pi(e)
Last week was Pie Week, so I made some pie - seemed rude not to really. And today is Pi Day (well it is if you write your dates American stylee, as it's 3.14) so I'm fulfilling two pie-related celebrations with one post, which I think makes up a little bit for entirely forgetting it was pancake day last week!
This pie was a slightly Turkish inspired filo pastry "making use of the veg box" creation. So it didn't strictly have a recipe. I'm going to call it a concept pie, and describe the general process here...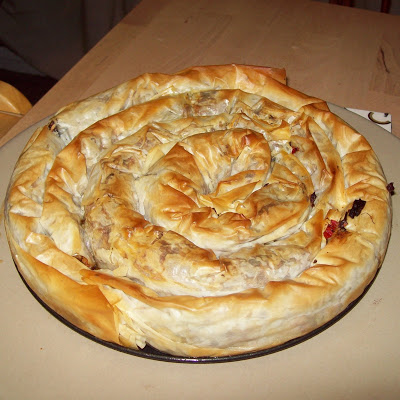 Lentil & Vegetable Filo Pastry Pie (Serves 4-6)
I used 1 garlic clove 1 leek, 2 carrots, 1 tin green lentils, 1 tbsp mint sauce, 1/2 jar sundried tomatoes, half a red pepper, 1/2 tsp cumin, 5 dried figs and half a bunch of fresh dill, 6 sheets of filo pastry, and about 2tbsp olive oil. I think that was about it.
I sauteed the veg, starting with the leek, garlic and carrot, and adding the others as I chopped them, stirring in the dill after I'd turned the heat off.
I then took a filo pastry sheet, brushed it with oil and spooned a line of filling along the long edge and rolled it up. I shaped it around the outer edge of a cake tin. I then did the same with another sheet, and kept going until the tin was filled. I brushed again with a bit more olive oil, and popped it in the over at about 180C for about 20 mins until browned and crisp, then took it out and allowed to cool slightly before cutting.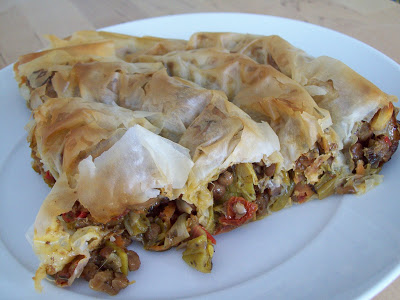 For such a random creation, it tasted really lovely, and even the weird and wonderful flavour combinations that I was slightly skeptical about during the creation phase worked together. I'm pretty sure it is entirely inauthentic to any cuisine, but I'm not fussed! It used up some leek that I was otherwise at a bit of a loss with, and was fun to make, so it's a winner by my book. The possibilities for variations are endless. Adding some feta cheese would have tipped it from nice to awesome, but my diet is still a cheese free zone, so that'll have to wait for some other time...