Breakfast Club - Fairtrade
I'm writing this at high speed, as I'm pretty sure I'm going to fall the wrong side of the posting deadline for
this month's Breakfast Club challenge
. When the closing date says '6th June' I'm guessing that ideally
Helen at Fuss Free Flavours
(who is not only the challenge's originator, but who is also hosting it this month) was not hoping for a flurry of 11pm entrants! Hopefully other participants are a bit more organised than me!
With the theme of fair-trade, I decided it was high time I used this bag of fair-trade banana chips that were lurking in my cupboard.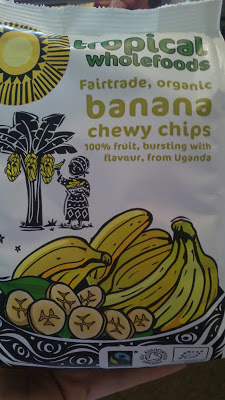 I also used some fair-trade dark brown sugar.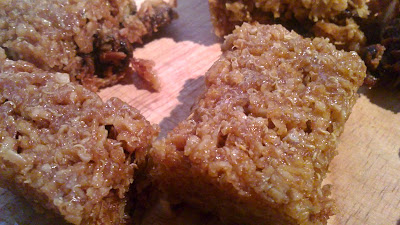 Fairtrade Banana Quinoa Flapjacks
Time was low, so I went for some flapjacks, and made them in the microwave, which I've never done before. Surprisingly, the microwave cooked the flapjack really well. The banana chips didn't respond quite so well to the microwave cooking - possibly because they were dehydrated but with a high sugar content, so that during cooking they became slightly burned banana nuggets inside the flapjacks. Mr E says they taste good - I'm too scared for my fillings, so have just gingerly eaten the flapjack from around them!
If I was to make these again... I would either cook them in the oven, with the banana chips, or make microwave flapjacks without the bananas. A learning experience if nothing else!
Microwave Banana Quinoa Flapjacks (makes 8-10)
85g non-dairy margarine
25g caster sugar
25g dark brown soft sugar
2 tbsp golden syrup
1 tbsp honey
110g rolled oats
20g banana chips (at your peril if you're microwaving!)
2 tbsp quinoa flakes
First up, put the margarine, sugars, syrup and honey into a microwave proof bowl and cook on high for 1 minute.
Stir well to ensure it is all melted and combined.
Add the oats, quinoa and banana chips and mix until completely coated. If it seems runny, rather than a lumpy, wet mixture, then add another tbsp of quinoa or oats.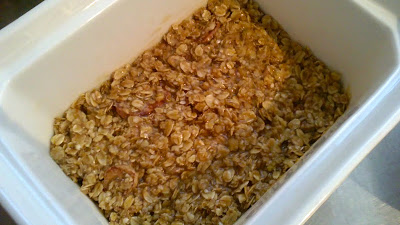 Before baking...
Tip into a lightly greased microwave proof dish (the one I used was approx 20x10cm).
Press down firmly, then cook on high for 2 minutes with a cover on, then uncover and cook for another 3 minutes.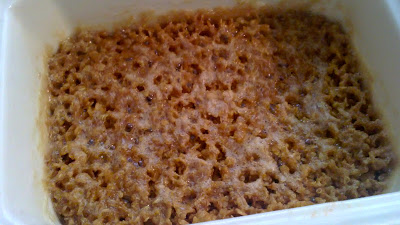 Straight from the microwave and still bubbling away furiously
Leave to cool a little, and mark into squares, then when it has firmed up, lift out the squares.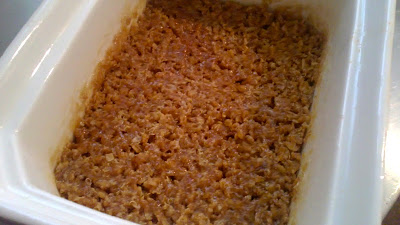 Ready to be cut into squares
I was skeptical that this would lift out of the tin - I half had visions of ruining a dish with welded on quinoa, but I was wrong - it popped out like a dream - phew!
I was using a 900W microwave - if yours is less or more, you might want to adjust the timings accordingly.