Makey-Cakey Birthday Surprise Ingredient Swappers
So, as explained in my Surprising... post, I'm orchestrating a surprise baking ingredient swap, cunningly timed to distract me from the predicted 30th birthday doldrums I'm predicting in July.

I asked for participants, and we have 8 - certainly enough for a roundup and some swapping - woop - since swapping ingredients with myself would just not have been as much fun, and possibly led to me being taken away by the men in white coats.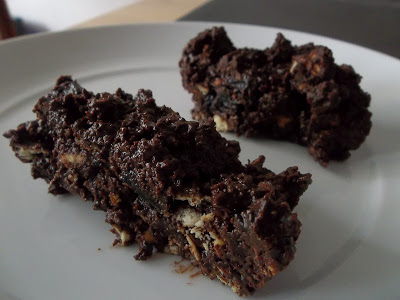 Gratuitous cake photo - chocolate prune biscuit fridge cake

If you need a reminder, here's how it works:

On 1st June (oops, I'm already a day late!) I will randomly pair people up and post the pairings
Everyone contacts their paired partner, has a quick chat, exchanges addresses, flags up any allergies etc.
Everyone then goes out and buys a lovely little surprise ingredient (of a Cakey nature of course) and posts it to their partner
Once you receive your ingredient, thank your partner profusely and get baking!
Photograph your creation, and if you blog, send me the link. If you - fear not, you can still join in - just send me a picture - by the 22nd July
I'll post a roundup of all the sure-to-be-delicious-and-beautiful bakes on 23rd July - as a distraction from the distressing fact that I'll be newly 30!
So without further ado, here are the pairings (randomly allocated in the following unscientifically approved way: Everyone's names written on the back of an old electricity bill. Numbers 1 to 8 allocated. Mr E pestered by me to choose a number, then another, to make the first pair. Cue a lot of confusion as to which numbers had already been used, as the pairs progressed. I think it's probably a good thing I didn't have any more to work with!)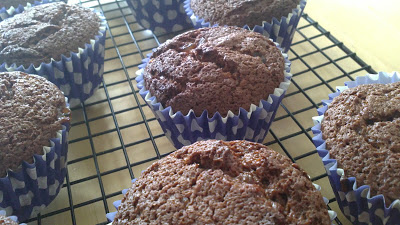 Surprise - another cake photo! Marmalade chocolate cupcakes

Mr E at Hell Yeah Four Ingredient Recipes with Vanessa at The Teensy, Tiny, Insignificant Details
Jean at Baking in Franglais with The Cupcake Architect
Gary at Exploits of a Food Nut with yours truly at Makey-Cakey
Dom at Belleau Kitchen with @ClaireHitchen

Hopefully that all makes sense - go get in touch, then get shopping, posting and baking :o)

And if you're reading this and thinking 'damn, I've missed the boat - that sounds like fun' just leave a comment, and I'm happy to pair up any stragglers in twos.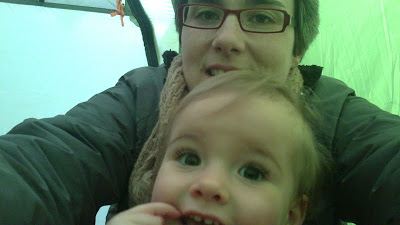 And a surprise of a different sort - a Mini-M pop-up surprise!