C&D's Wedding Cake: Lemon & Almond Cake with White Chocolate Icing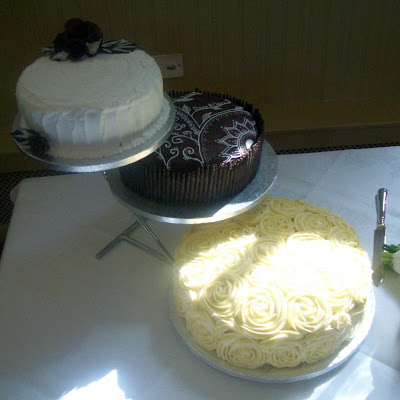 The weekend just past saw the beautiful wedding of our lovely friends C&D. It was a fantastic day, with uncharacteristic and unexpected Scottish sunshine, good company, good food, and good ceilidh-ing. The fortnight running up to it, I had a military precision baking timetable, as I was making and decorating their 3 tier wedding cake. I'm pleased to say that it turned out as well as I hoped, tasted good, and I even managed to take some photos (unusual for me!). Each tier was different and will get its own post - this one is dedicated to the bottom tier - lemon sponge with white chocolate butter icing.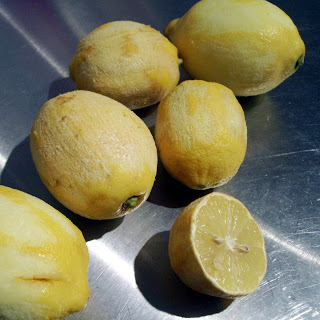 I made the cake with 3 thin layers, as I wanted to keep them fairly flat so they would stack well, and I wanted to make sure there was plenty of cake to go round.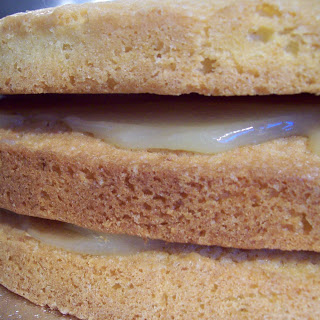 The recipe I used was given to me by my Mum, who got it from a Home Economics teacher at her school, who made it for her son's wedding. I'm not sure where it came from before that, or if it is of her creation - but it is lovely and moist and lemony, and can be made a day or so in advance, which is perfect for a wedding cake. The recipe below is the quantity I used for each layer, however I have also made the same amount in an 8in deep tin, which makes a single cake that can be split through the middle for filling.
Lemon Cake with Double Lemon Filling
For the Cake...
225g unsalted butter at room temperature
225g caster sugar
grated zest of 1.5 lemons
275g SR flour
pinch of salt
4 large eggs beaten
50g ground almonds
For the Icing & Filling...
150g unsalted butter at room temperature
275g icing sugar
1 lemon, grated zest and juice
2 generous tbsp lemon curd
Preheat oven to 160 C (Gas Mark 3), and grease and line an 8 inch deep loose bottomed cake tin (or a shallow 12 inch one)
Make the cake first of all...
Cream butter and sugar together until fluffy, add the zest, then beat in the eggs a little at a time. If it looks like it is starting to curdle, add a little flour and beat hard. Once the eggs are all added, sieve in the flour, add the salt, then lastly mix in the ground almonds. Spoon the mixture into the prepared tin, with a slight hollow in the centre to ensure an even rise. Bake in the centre of the oven for about 1 to 1.25 hrs, and leave to cool in tin for a couple of minutes before turning out onto a cooling rack.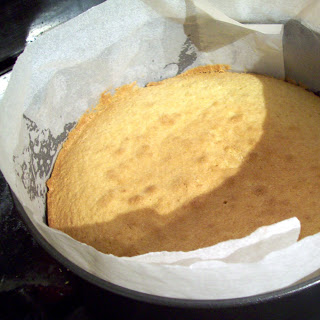 Once you are ready to ice...
Beat together the softened butter, sieved icing sugar, grated lemon zest, and 2-3 tbsp of lemon juice. Level the top of the cake(s) if necessary, and cut in half through the middle (obviously not if you're going for the thin layers approach). Spread the middle(s) with the lemon curd. I used about 3tbsp per layer, at this point, which is more than the recipe, due to the large surface area I needed to cover. The original recipe says to use 2/3 of the lemon icing in the filling too, reserving 1/3 to crumb coat. It also specifies to stand for 1 day before marzipan-ing. I diverged a bit from the recipe here... I mixed up a double batch of the icing and used it all to give a generous crumb coat, with none in the middle (just the lemon curd).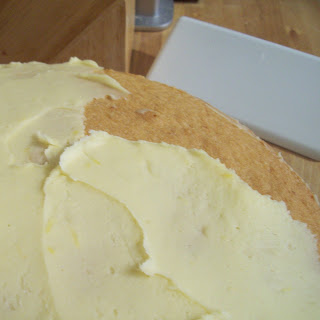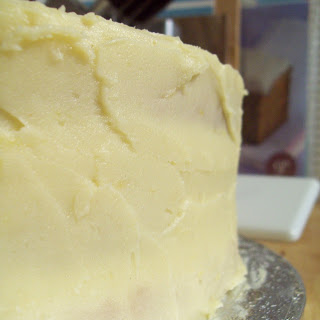 I then made white chocolate icing based on
this BBC Good Food recipe
. I upped the icing sugar and decreased the butter slightly as I wanted it a bit stiffer to hold its shape after piping.
White Chocolate Icing
100g white chocolate
150g icing sugar
130g unsalted butter
Allow the butter to come to room temperature, then beat with a wooden spoon to soften. Sift the icing sugar over the butter, and beat well until smooth. Melt the chocolate (I did it carefully in the microwave on half power) and mix into the icing. Allow to cool and thicken up a little before using. All in all, I think I made 6x this quantity to cover the 12 inch cake with roses (which is an icing-heavy decoration).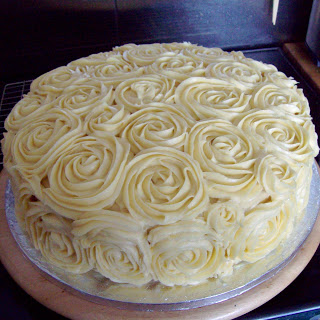 I was then inspired by
this post on i am baker
for a beautiful piped rose design, which I, like her, piped all over the cake. I did a fair bit of practicing on several batches of cup cakes in the weeks beforehand, so that I was familiar with the swirling technique when the time came to decorating the lemon cake.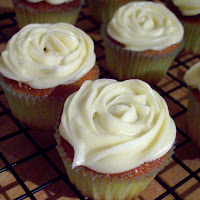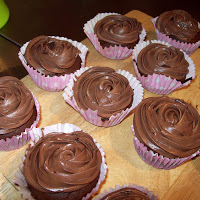 That said, I was still rather nervous - and indeed I got more nervous as the piping progressed because there was more at stake if I messed up! The key to this technique is definitely confidence - the hesitant roses looked least rose like, and even though they are individually imperfect the massed effect is gorgeous. I foresee many more swirly rose cakes in the future!