CCC Cake: Cranberry Chocolate and Cola
I love finding unexpected supermarket bargains - particularly stuff that is marked down for quick sale with no apparent reason.

Like this jar of wholeberry cranberry sauce that was reduced to 10p! Since it still had 6 months on its shelf life, was undamaged and the seal was still good, I snapped it up.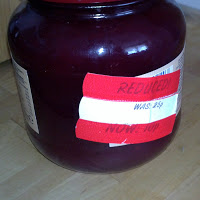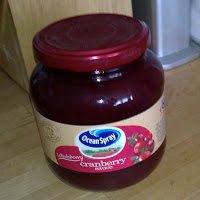 It sat in my cupboard for a while and from time to time I would look at it and feel smug. Then suddenly I decided I wanted to make a cake with it. And for some reason I decided it also needed to have cola and chocolate in it. Turns out there aren't many recipes out there for dairy free cranberry, cola and chocolate cakes - not a bit surprise - so I decided to make one up.

I used a Nigella Lawson recipe for Chocolate and Cola cake as a starter, and in my customary way, completely messed around with all the quantities and ingredients until I ended up with something completely different.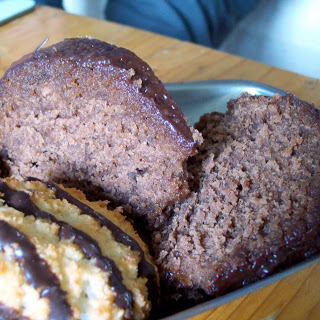 What I actually created tasted neither of cranberry, cola or even that much of chocolate. But it was a really lovely densely crumbed, gooey, slightly fruity, slightly spiced, lightly chocolaty cake that was perfect with a cuppa, and is definitely now on my make again list. Hence it's appearance here, so that I don't lose the recipe!

Cranberry Chocolate Cola Cake with Chocolate Icing
Makes 1 large (12 inch) bundt ring

For the Cake:

300g Plain Flour
250g Granulated Sugar
1tsp Baking Powder
1/2 tsp Bicarbonate of Soda
A Pinch of Salt
1 large egg
100ml Oatly Oat Milk (any type of milk would work)
1tsp Vanilla Extract
125g Dairy Free Sunflower Margarine
25g Cocoa Powder
175ml Cola
225g Cranberry Sauce (I used wholeberry)

For the Icing:


30g Dark Chocolate (I used 72% cocoa solids)
30g Dairy Free Sunflower Margarine
3tbsp Cola

Preheat the oven to 180C (Fan 160C). Grease a large 12 inch bundt tin well.
In a large bowl sieve together the flour, sugar, baking powder, bicarbonate of soda and salt.
Measure the milk into a measuring jug, add the egg and vanilla and beat well.
In a saucepan, melt the margarine, cocoa powder, cranberry sauce and cola, heating gently until it has all melted and combined together.
Pour the melted mixture into the flour mixture, give it a quick stir, then add the egg and milk mixture and beat well until well blended and smooth.
Pour into the prepared tin and put the tin on a baking sheet.
Bake for about 40 mins, or until a skewer inserted into the deepest part comes out clean.
Once cooked remove from the oven and leave in the tin for 10 mins, then turn out onto a wire rack, and slide a sheet of newspaper underneath to catch the inevitable icing drips.
Sieve the icing sugar and leave to the side for a moment. Put the butter, cola and dark chocolate in a small saucepan, and heat over a really low heat until smooth and combined.
Add the icing sugar gradually until you have a thick but still runny icing (think a bit thicker than double cream).
Spoon the icing all over whilst the cake is still warm, and leave to set and cool before transferring it to a serving plate and enjoying!