So, this festive season was full of baking and general kitchen happiness, which was a lot of fun in the making, and tasty in the eating. Pictures were duly taken of a variety of the creations, and I thought I'd pop them up here. No recipes, no more chat, on with the cakes!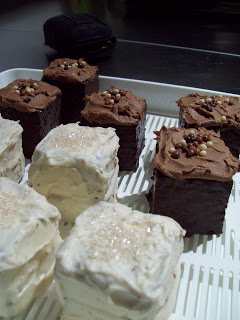 Mini Chocolate Cakes a) filled with blackcurrant jam, covered in cherry brandy butter icing with pink sugar sprinkles, and b) covered in dark chocolate coffee ganache with chocolate butter icing and chocolate sprinkles
Mini gingerbread men decorated one snowy afternoon by myself and the lovely Em :o)
Christmas Dinner Pie - which we had for Christmas dinner, filled with sausage meat, turkey, apricots, cranberries and general Christmas yumminess
And lastly but not leastly, 2 decorated Christmas cakes - one for us and one for my Mum.
Phew! Job done.