Coconut Toast - A Breakfast Club April 2012 Sweet Treat
This month's Breakfast Club, organised by Helen from Fuss Free Flavours, is hosted by Utterly Scrummy Food For Families who has asked us to cook up a delicious Breakfast Pastry or Sweet Treat.

I went for a quick and easy recipe that definitely gave us a sweet Saturday morning breakfast treat: Coconut Toast.

I used a recipe I found at Taste of Home which I halved, subbed the butter for dairy-free margarine, and generally tweaked the quantities a little bit.

So here's my recipe adaptation...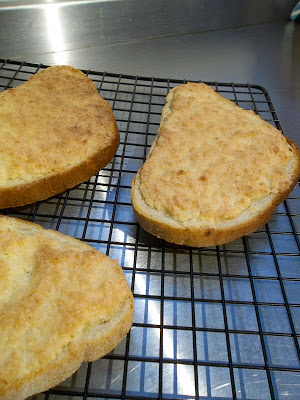 Coconut Toast (makes enough for 4 slices with some extra topping which will keep in the fridge for another day)


4 slices bread - I used Polish sourdough
1/2 cup unsweetened desiccated coconut
1/2 cup sugar
2 tbsp dairy free margarine, melted
1 egg beaten
1/2 tsp vanilla extract

Preheat the oven to 180C and very lightly grease a baking sheet.
Lay out the slices of bread on the baking sheet.
Mix together all of the ingredients, then spread onto the bread.
You want a layer that isn't too thick, otherwise it won't cook properly, but not too thin either!
Bake for 15-20 minutes until golden on top.
Lift onto a cooling rack, and allow to cool for about 5 minutes before eating to avoid burning your mouth!

This was lovely - and probably once you analyse it, not that much more unhealthy than toast with jam.
It was easy to make, which is important for breakfast, quick - another must, and of course tasty!
You could easily add a lot of other flavours to this - cinnamon would be lovely, some chopped nuts also fantastic - it seems a very flexible recipe.