Daring Cooks' April 2012 Challenge - Create Your Own Recipe
Time to post this month's Daring Cooks' challenge again...

Our April 2012 Daring Cooks hosts were David & Karen from Twenty-Fingered Cooking. They presented us with a very daring and unique challenge of forming our own recipes by using a set list of ingredients.

We were given three categories, each containing three ingredients, and had to come up with a dish using one item from each category.

Category A) Parsnips, Aubergine, Cauliflower
Category B) Balsamic Vinegar, Goats Cheese, Chipotle Peppers
Category C) Bananas, Maple Syrup, Instant Coffee

Since I'm not one to do things by halves, I decided to create a three course meal, using all nine ingredients, in three different combinations. I'm generally fairly free-form in my cooking, and lots of our dinners are random concoctions, so I figured I needed more of a challenge.

But given that Mini-M the chaos pixie lives in our house, our 'three course meal' was split over three separate days, with one course each day.

For starter I made Cauliflower Croquettes with a Balsamic and Coffee dipping sauce. Main Course was Chipotle and Maple Roasted Aubergine with Hot Smoked Salmon and Rice Couscous. And Dessert was a Self Saucing Sticky Banana, Parsnip and Goats Cheese Pudding. (Recipes after the pictures if anyone is interested!)

So how did it all taste?

Well, the cauliflower fritters were delicious. I'd definitely make them again. We've had some new season cauli's in our veg box which have been rather on the small side, and this is a great recipe for them, as you don't need lots. The sauce was a lot nicer than we expected - savoury and tangy, and a very pleasant surprise. I used the leftovers to bake some beef sausages the next day and it game them a subtle coffee hint which was great.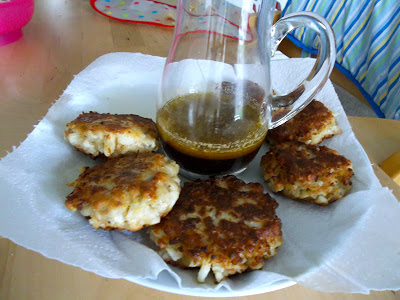 The main had some delicious elements - the Maple and Chipotle Roasted Aubergines were sticky and sweet and very good. And hot smoked salmon is always tasty. But I horribly overcooked the rice couscous by not paying attention and sloshing on far too much water, which it then absorbed. It was pretty much like wallpaper paste with bits of aubergine and salmon in it. The taste was good, the texture a little odd! I think the aubergine would go really well with noodles though, and I'll be making it again too.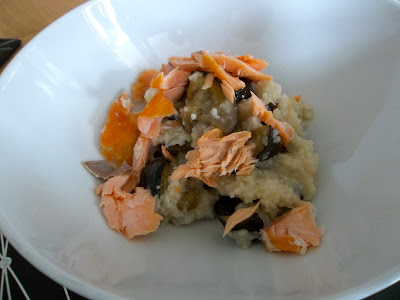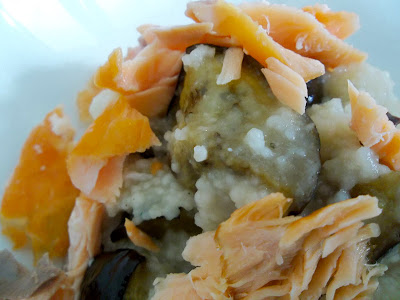 Wallpaper Paste Close-Up

And lastly dessert. I have to confess I didn't taste this, since it had goats cheese in it, and I'm currently dairy free. But Mr E has eaten two helpings happily, and is about to go an have another! I'm reliably informed that it tastes like a banana-y sticky toffee pudding, and the parsnip and goats cheese aren't obvious flavours, but if you concentrate hard you can tell that they're there.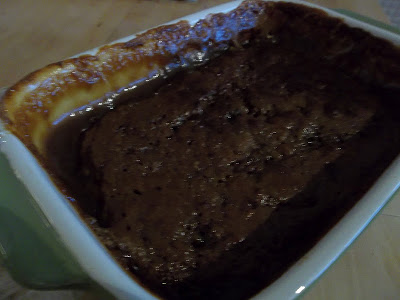 Hot from the oven and still bubbling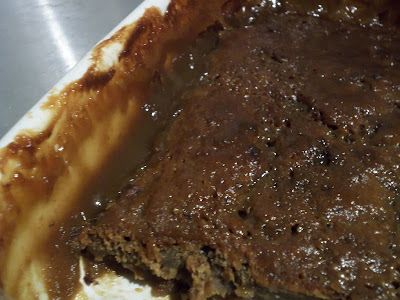 Toffee Sauce close-up

Cauliflower Croquettes with Balsamic Coffee Dipping Sauce (Makes 6 and plenty of sauce)


200g raw cauliflower
150g breadcrumbs (mine were frozen and made from a loaf containing sunflower seeds which added extra crunchy nutty bits)
1 medium egg
1/2 tbsp cold pressed rapeseed oil
Salt and Pepper
Sunflower oil for frying

Break the cauliflower into florets and cooking boiling water until tender. Drain, but leave a little water.
Put the cauliflower in a bowl whilst still hot, and mash with a fork to break up.
Stir in the breadcrumbs, rapeseed oil and salt and pepper, then once it has cooled slightly, mix in the beaten egg.
Allow to chill for about half an hour, then shape into 6 small patties.
Heat some sunflower oil in a deep frying pan, add the croquettes and fry for about 4 minutes on each side until golden.
Drain on kitchen paper.

Whilst the croquettes are frying, whisk or shake together the following dressing ingredients:


2 tbsp balsamic vinegar
2 tbsp very strong coffee (I used 1 tsp coffee granules to 2 tbsp water)
2 tbsp cold pressed rapeseed oil
a dash of lemon juice
pinch of salt and twist of pepper

Serve the fritters with the sauce drizzled over, or in a separate bowl for dipping.

Maple Chipotle Roasted Aubergine (Serves 2)


1 medium aubergine
1/2 a dried chipotle pepper
Hot Water
2 tbsp maple syrup
3 tbsp sunflower oil
pinch of salt
ground pepper

Preheat the oven to 170C.
Soak the chipotle in hot water for about 5 minutes to soften then finely chop.
Cut the aubergine into chunks and put into a casserole dish.
Drizzle of the oil, sprinkle with salt and pepper and give it a good mix.
Roast for about 20 minutes, then take out of the oven.
Sprinkle over the chopped chipotle, drizzle over the maple syrup and return to the oven for another 15 minutes cooking.

Self Saucing Sticky Banana, Parsnip and Goats Cheese Pudding (Serves 4)


50g soft goats cheese
1 tbsp rapeseed oil (or omit the oil and substitute the goats cheese for butter)
50g stoneless dates
50g grated parsnip
75ml hazelnut milk (or regular milk, or soya - whatever you fancy!)
1/2 tsp vanilla extract
1/2 tsp bicarbonate of soda
70g Self Raising Flour
1 tsp ground ginger
1 tbsp treacle
35g demerara sugar
1 small overripe banana, mashed

then for the sauce...


35g rapadura (or 50g brown sugar)
2 tbsp golden syrup
125ml boiling water

Preheat the oven to 180C (160C fan) and grease a medium sized casserole dish.
Chop the dates fairly small, and put them in a pan with the milk and vanilla. Bring to boiling point, then take off the heat, and stir in the bicarbonate of soda.
In a small bowl, mash together the banana, goats cheese and oil.
Sieve the flour and ginger into a mixing bowl, then stir in the sugar.
Add the treacle, mashed banana and goats cheese, parsnip and date mixture then mix really well for about five minutes, or, if like me you're making it at 10:30pm at night, your arm gets tired and you get bored!
Pour into the prepared casserole dish and give it a shake to level.
Sprinkle over the rapadura, drizzle over the golden syrup then carefully pour over the boiling water.
Don't stir!!!! It will look vile and disgusting, with sugary water and little bits of raw cake mix, but worry not, magic will happen in the oven.
Bake for about 40 mins, until firm to the touch and the sauce is bubbling around the edges.
When you serve, you'll discover that there is magically now a layer of toffee sauce on the bottom that you didn't put there - amazing!