Daring Bakers January 2011: Chocolate, Coconut, Jelly Polkadots
The January 2011 Daring Bakers' challenge was hosted by Astheroshe of the blog
accro
. She chose to challenge everyone to make a Biscuit Joconde Imprime to wrap around an Entremets dessert.
This is basically a fancy french patisserie style cake of beauty (and epic-ness) in the preparation. It's a very thin patterned sponge which is used to line a mould and form the cake walls, which are then filled with mousse, cream, or other such layers of gooey yumminess.
This filled me with excitement at getting the chance to tackle something so technical, and hopefully produce something beautiful, and dread at how on earth I was going to make it non-dairy and still yum. I think that after a day of frantic whisking, chilling, baking, cutting, melting, whipping and layering, I got there - largely thanks to the expert baby care assistance from my lovely sister, and my ever patient other half - thanks guys!
Here are a few photos of the during and after of the construction. In the end I went for a chocolate-cardamom and plain vanilla sponge around the outside. I lined it with melted dark chocolate to stop the fillings seeping through, and filled it with a layer of raspberries in jelly, a layer of sponge trimmings, a layer of chocolate soya ganache (which tasted a lot nicer that it sounds!) and whipped coconut cream with some sponge polka dots on the top.
Here are some in progress photos...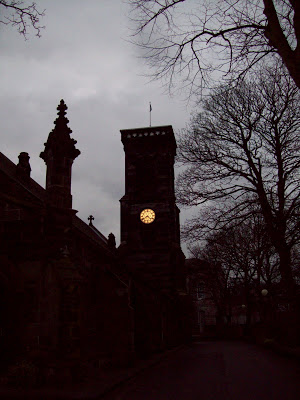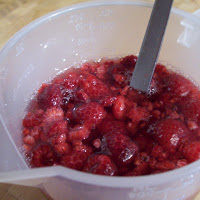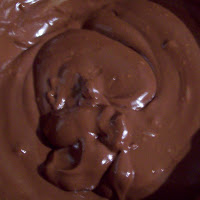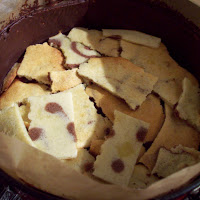 And the finished article - Phew!