Secret Cappuccino Cupcakes
Yesterday morning Mini-M decided she wanted to have an early nap, and was snoozing again by 9am. Not that I was complaining - I used the unexpected opportunity so whip up a quick batch of cupcakes (I still think of them as buns from my childhood, but calling them that will probably just confuse things).
Whilst I was making the mix, I put some cappuccino chocolate truffles (not homemade sadly, because I don't have THAT much free time!) in the freezer. When it came to filling the paper cases, I dolloped in a teaspoonful, then put in a frozen truffle, then covered it with another spoonful of mix. Bingo - a hidden cappuccino-y chocolate-y centre to each cake :o)
In stealth mode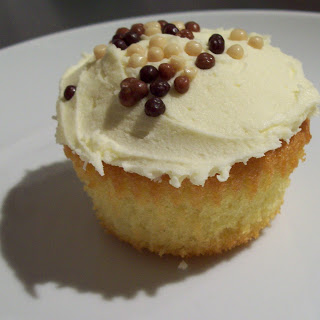 Naked (i.e. unwrapped)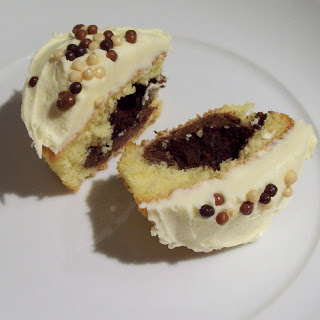 The hidden truffle revealed
Secret Cappuccino Cupcakes (makes 10ish)
For the cake:
2 eggs
100g self raising flour
100g caster sugar
100g margarine
1/2tsp vanilla extract
1tbsp milk
10 frozen chocolate cappuccino truffles
For the icing:
Approx 50g butter
Approx 200g of icing sugar
Chocolate sprinkles for decoration
Preheat oven to 180C (170C if you're using a fan oven)
Line your cupcake tin with paper cakes.
Cream butter and caster sugar until light and fluffy
Add the eggs and vanilla along with 1tbsp sieved flour to stop it curdling and mix well.
Sieve in the rest of the flour and beat until combined.
Add the milk if your mixture is a little stiff.
Put a teaspoon of the mix in the bottom of each paper case, then add a frozen truffle, then top with another spoonful of mix.
Pop into the preheated oven and bake for about 15mins until they are golden.
Remove and allow to cool completely before icing.
To make the icing, beat the butter until soft and gradually sieve in the icing sugar until the desired consistency is reached.
Spread on the top of each cupcake and dip in sprinkles before the icing sets.
Enjoy! Or give to someone as a present like I did - I am reliably informed they tasted lovely!