The Daring Bakers July 2011 Challenge: (Not Exactly) Fresh Fraisiers
Jana of
Cherry Tea Cakes
was our July Daring Bakers' host and she challenges us to make French Fraisiers inspired by recipes written by Elisabeth M. Prueitt and Chad Robertson in the beautiful cookbook
Tartine
.
So.... for those of us who are unenlightened in the terminology of French patisserie (i.e. me, before this challenge), a Fraisier is a luxurious strawberry cream gateux. It has a chiffon cake layer on the bottom, moistened with a sugar syrup, and is filled with fresh strawberries, set pastry cream and whipped cream, topped with more sponge and a thin layer of almond marzipan.
This gorgeous picture is one made by the host of this challenge - the very talented Jana who blogs at
Cherry Tea Cakes
.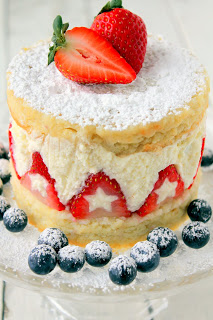 For a variety of reasons, what I made is absolutely NOTHING like the above description!
I can't have cream, so my Fraisier was going to have to be coconut based (I am such a fan of how you can whip chilled coconut milk like double cream - it has been my saviour during several Daring Bakers' challenges now). I didn't have strawberries (but i did have some tinned peaches that were open in the fridge and needed using up). The cake recipe for chiffon cake specified in the challenge involved a fair bit of electric whisking to get the eggs whites to stiff peaks. Mini-M was again asleep in her room above the kitchen, so electric whisking was a no-no, and instead I concocted my own coconutty sponge recipe. By this point I was feeling a fairly tropical vibe, so decided to make my sugar syrup a dark rum syrup (which to be honest I could have drunk by the glass, it was so good!). After all of that, I decided to skip the marzipan layer, because a) I wasn't sure it would fit with the tropical vibe, b) my cake was domed on top, and I didn't want to cut it off to marzipan it, and c) I didn't have any!
So here is my un-Fraisier!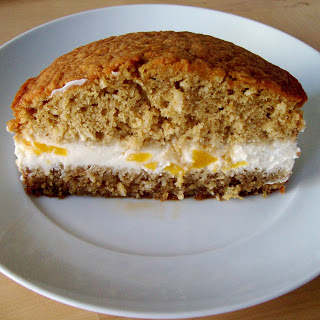 And here are my recipes...
Tropical Coconut Sponge Cake:
Makes 1 8in cake.
2 eggs
Approx 100g self raising flour
Approx 100g dairy free margarine (or use the real stuff if you prefer!)
Appprox 100g soft brown sugar
25g dessicated coconut
1/2tsp pineapple essence.
Firstly, weigh the eggs (in their shells). The weight of your flour, margarine and soft brown sugar should equal them. For example, mine weighted 108g, so I weighed 108g of flour, 108g of sugar etc. This might seem like a trivial difference here, but it allows the recipe to work well for a wide variety of egg sizes.
Cream the margarine and sugar until light and fluffy, then beat in the eggs and pineapple essence. Add the flour and coconut and mix until combined. Pour into a greased tin, and bake in a preheated oven at about 160C (Fan) / 180C conventional. Once a skewer comes out clean it is done - probably about 25-30 mins.
Allow to cook for a couple of minutes then tip out of the tin.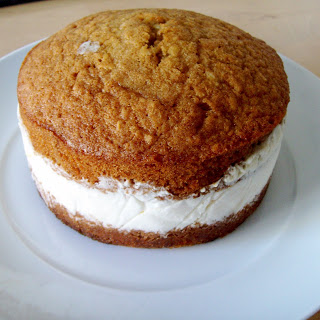 Dark Rum Syrup
40g soft brown sugar
4tbsp water
2tbsp dark rum
Put all ingredients in a small saucepan over a relatively low heat for a few minutes to let the sugar dissolve. Bring the mixture to a boil, then remove from the heat and allow to cool slightly.
Coconut Pastry Cream
1 400ml tin of coconut milk
1/4 tsp vanilla extract
A pinch of salt
1 tbsp cornflour
30g sugar (I used granulated, but probably caster would have been better)
1 medium egg
1tbsp dairy free margarine (but butter would be nicer!)
1 leaf of gelatine
So, about a week before you want to make this, put a tin of coconut milk in the back of your fridge and forget about it. I generally keep one there most of the time, so that I don't have to wait a week to bake. Put the cornflour (sieved) and sugar in a mixing bowl, and mix with an electric whisk until combined (on slow speed, otherwise you'll fill your kitchen and lungs with clouds of cornflour dust. I speak from experience).
Add the egg and whisk until smooth and well combined.
Open your tin of coconut milk carefully, and you should be able to see that it has separated into really thick, almost solid cream, and much runnier watery milk. Pour off 125ml of the milk into a pan, add the salt and vanilla extract. Heat until scalded (i.e. almost at boiling point). Then with the whisk running, carefully pour the hot coconut milk into the egg mixture. Decant back into the pan you just heated the milk in and cook over a low-medium heat stirring constantly until the custard has thickened enough to coat the back of a spoon. Remove from the heat, and stir in the margarine. Allow to cool for about 10 minutes.
Take the rest of the tin of coconut milk (whatever is left of the runny milk, plus the solid cream) and beat until it forms stiff peaks.
Put the sheet of gelatine in a bowl of cold water and leave to soak for about 5 minutes. Drain and squeeze out the excess water.
Put the gelatine into a large microwavable bowl, and microwave on high power for 10 seconds to melt it. Then pour in the custard and mix well. Fold in the whipped coconut cream, and some chopped fruit of your choice. I used about 6 tinned peach slices. Phew! That's all the components made...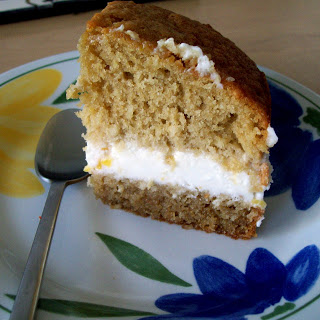 Assembly. I lined the tin I had baked the cake in with clingfilm, cut the cake in half, and put the bottom half back into the tin. I drizzled over the syrup, and dolloped on the creamy filling until it reached the top of the tin. I balanced the other half of the cake on top, wrapped it all in clingfilm and left it in the fridge overnight to chill, then carefully unwrapped.
This may have been a very haphazard corruption of what I'm sure is a very delicious and sophisticated dessert, but oh my goodness it was tasty! Sometimes experiments turn out well - this was one of them :o)