The Daring Cooks August 2011 Challenge: Appam & Curry - both a failure and success!
Mary, who writes the delicious blog,

Mary Mary Culinary

was our August Daring Cooks' host. Mary chose to show us how delicious South Indian cuisine is! She challenged us to make Appam and another South Indian/Sri Lankan dish to go with the warm flat bread.


Appam is a south indian yeasted flatbread, made with rice.

This challenge was fun, and I'd say in equal parts a success and a failure.

My appam were pretty much a failure. If I'm being honest I'm not surprised - the only rice I had to hand was short grain pudding rice, so I just went ahead and used it, but I think it stayed too gritty, even after the soaking and blending and didn't release enough starch. So the first appam were an epic fail. This is what they looked like after I scraped them off the bottom of the pan!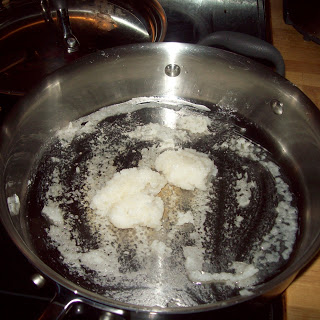 One of my lovely dinner guests then suggested, half in jest, adding some flour, and 1tbsp plain flour beaten in to the batter made a huge difference - phew! Lateral thinking dinner guests always come in handy. Not only that but they even helped with the washing up!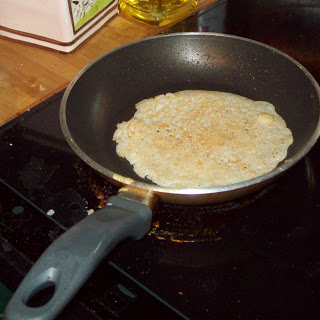 I made several different Sri Lankan and southern Indian dishes to go with them, largely chosen based on the veg that came in this week's
East Coast veg box
and they were definitely a success. I think the tasted even better as heated up leftovers today.
I made a dry spiced potato curry using
this recipe
. I missed out the dill seed, as I didn't have any, and omitted the coriander, as I'm allergic to it, but other than that followed the recipe pretty much exactly. It was delicious - hot but not too hot, and the dessicated coconut really worked well (mine was unsweetened dessicated coconut - not sure how well it would have gone with sweetened stuff).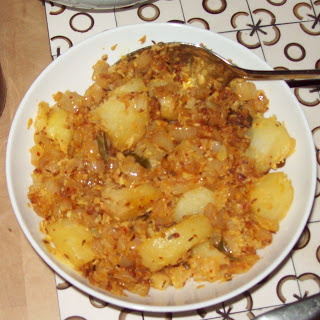 I made a boiled egg curry using
this recipe
, since the slightly curried egg in kedgeree always seemed to me to be the best bit. It was one of those dishes that seems far more than a sum of its parts - literally just some egg, onion and spices. Delicious - I will definitely make something like this again.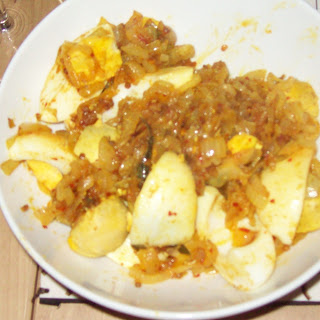 I did have one dish that was a monumental digression from the original recipe - as is my way! I made a carrot, pea and broadbean curry with coconut milk. It was loosely based on
this recipe for beet curry
, but as I said, I used carrots, broad beans and peas, and upped the amount of coconut milk to allow it to simmer for longer.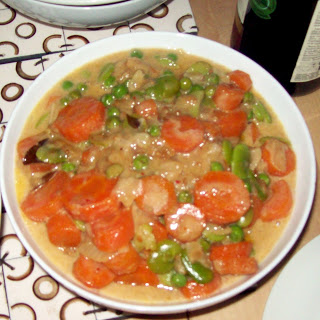 And finally I made a sweet tomato chutney, using
this recipe
, and substituting hazelnuts for almonds, because that's what I had to hand. I'm not a chutney fan, but it got top marks from Mr E, who is a bit of a connoisseur!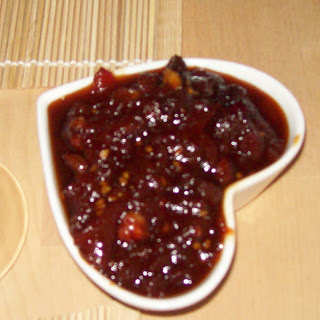 The photos are pretty attrocious - this last one in particular! I took them all in rubbish light, with my flash on, which never makes food look appealing - or even in focus sometimes. But fun of the challenge was ultimately in the making and eating, not the photographing, so I'll live with them!