The Daring Cooks' July, 2011 Challenge: Polish Pasta
Steph from
Stephfood
was our Daring Cooks' July hostess. Steph challenged us to make homemade noodles without the help of a motorized pasta machine. She provided us with recipes for Spatzle and Fresh Egg Pasta as well as a few delicious sauces to pair our noodles with!
We were encouraged to make pasta from our cultural backgrounds. But Scots are really not a very pasta-y race. That's not to say we don't LOVE eating the pasta of other nationalities - we've just not got our own authentic pasta dish.
I did toy with making homemade lasagne sheets to use in haggis lasagne, but as I'm still dairy free, the sauce was going to be tricky. I'm saving that delicacy for another time ;o)
So I decided to turn to my Polish cultural heritage instead, and made soup with Lane Ciasto (poured batter) noodles, and Barszcz z Uszka (Beetroot soup with "little ear" filled pasta).
Both recipes came from '
The Polish Kitchen' by Mary Pininska
. It's a very through traditional Polish cookery book, with lots of recipe both popular and more obscure. It has very few pictures though, which might make it a bit challenging if you'd not previously eaten what you were trying to recreate, and didn't know how it was supposed to turn out. But if you happen to fancy trying your hand at some Polish cooking, I thoroughly recommend it.
Anyway, enough of the book reviews!
I eased myself in gently with the Lane Ciasto - only 2 ingredients, and no kneading at all. First of all I made a pork and courgette soup (because that was what we had needing used up, and not authentically Polish in any way).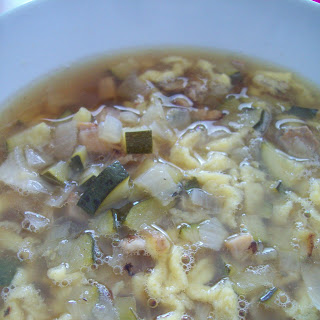 Lane Ciasto (serves 2 in a thin soup, or 3-4 in a chunkier soup)
These need to be made in a clear soup (i.e. not cream of anything, and not a pureed soup)
Soup of your choosing, and for the appropriate number of servings. In the words of the recipe book "This is often served with a good meat stock" but a veg broth would work well too I'm sure.
1 egg
1 generous tbsp plain flour
Beat the egg well, then slowly add the flour until you have a smooth and reasonably thick batter. (Think a little thicker than pouring double cream).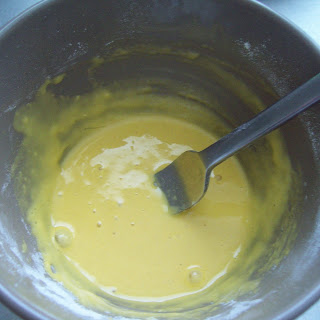 Heat the soup up until it is boiling (this is an important reason why 'cream-of' soups aren't suitable since boiling may well make them split or curdle). Pour in a little of the mixture from quite a high height. It should immediately form ribbons of noodles in the soup. If it dissolves instead of becoming noodles, stop and add a little more flour to your mixture then try again. You could drizzle it in from a ladle, or spoon, but I went for the fun option, and poured the batter into a squeezy decorating bottle, then squirted it into the soup - very satisfying!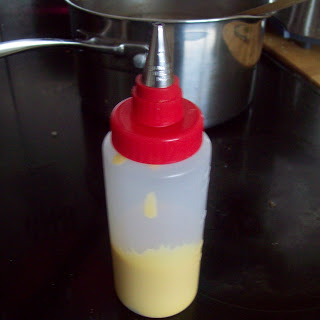 Once you've added all the batter, allow it to boil for 2-3 minutes, or until the noodles have all risen to the surface. Take off the heat and serve.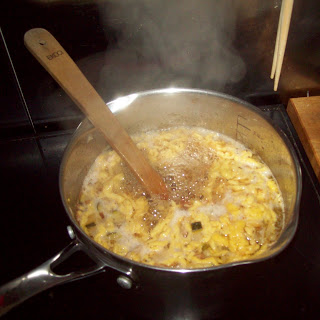 They were lovely - and definitely pasta-y rather than dumpling-y. So easy to make, I can see them becoming a bit of a staple in our house, to turn a bowl of soup into a more substantial meal.
After that success I decided to tackle something a bit more challenging, and with some rolling involved. I was pondering making Barszcz - beetroot soup that is eaten all over Poland (and indeed variations crop up all over central and eastern Europe). It is traditionally served as part of the Christmas Eve dinner, with uszka or "little ear" pasta. They are small stuffed pasta filled with mushrooms, so called because they are thought to resemble the shape of little ears. At Christmas, they are served in Barszcz that has been strained so that it is basically consomme, but I just left the veg in - I didn't want to see them wasted! Anyway, I was thinking about Barszcz when lo and behold, beetroot turned up in our veg box last week. I took it as an omen and got stuck into rolling, cutting and filling straight away.
My Barszcz was a bit of a corruption of the traditional recipe: I didn't have enough beetroot to make the soup and the fermented beetroot starter mixture, so I resorted to using a little Barszcz concentrate from the Polish deli. I also didn't have any celeriac, but an extra carrot, and no dill. A travesty, I know - Polish food without dill, but I couldn't find any, so carried on regardless.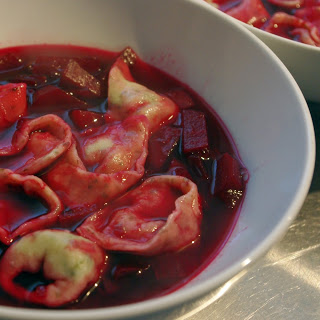 Barszcz z Uszka
(Serves 8 as a starter, or about 6 as a main meal)
Barszcz
25g dried mushrooms
2 medium carrots, peeled and chopped
1 onion, peeled and chopped
550g uncooked beetroot, peeled and chopped
1 bay leaf
5 black peppercorns
75ml Barszcz concentrate
Wash the mushrooms and soak in warm water for a few minutes. Drain and then put in a small saucepan. Cover with fresh water and bring to the boil then simmer for about 20 minutes. Put the carrot, beetroot and onion in a pan (do not brown). Cover with water, add the bay leaf and peppercorns, and simmer for about 1-1.5hrs until the beetroot is soft. Strain the mushrooms, and add the liquid to the beetroot broth. Add the Barszcz concentrate, taste, and add a little more if you like, depending on how sour you like it.
Uszka (makes about 20)
75g plain flour
1 egg yolk
pinch of salt
1tsp dried parsley
The mushrooms reserved from the soup above
1 onion, peeled
1 tbsp olive oil
1 tbsp dry breadcrumbs (I just grated a bit of the heel slice of the loaf in the bread bin)
1 egg white
Sift flour and salt into a bowl then mix in the parsley and knead to a smooth dough with the egg yolk, adding a few drops of water if necessary to reach the right consistency. The dough should be quite stiff, but not crumbly.
Roll out the dough thinly on a floured work surface - as thin as you can get it, then cut into small squares approximated 5cmx5cm.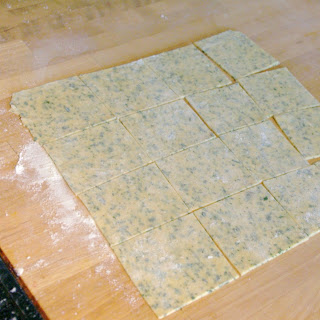 Dice the mushrooms and chop the onion finely, then sautee in the oil until the onions are soft. Mix in the breadcrumbs and egg white, and season with salt and pepper.
Spoon a little of the mushroom filling onto each square, and wet around 2 adjacent sides.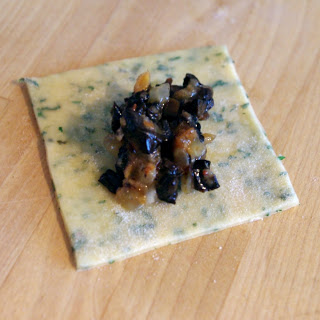 Fold the dough over to make a little triangle, then bring the two bottom corners round and use a bit of water to seal.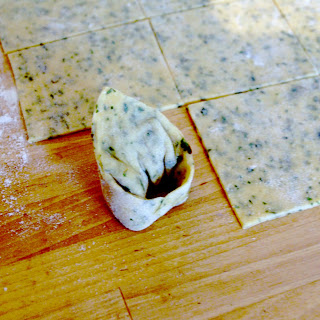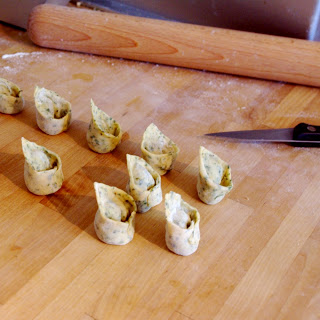 Add the "ears" to a pan of boiling salted water, and boil for about 5 mins. When they are ready they will rise to the surface.
Drain, divide between your serving bowls, and pour over the hot Barszcz, and enjoy!