Daring Cooks June 2011: Potato Salad
Jami Sorrento was our June Daring Cooks hostess and she chose to challenge us to celebrate the humble spud by making a delicious and healthy potato salad. The Darking Cooks Potato Salad Challenge was sponsored by the nice people at the United States Potato Board who awarded prizes to the top 3 most creative and healthy potato salads. A medium-size (5.3oz) potato has 110 calories, no fat, no cholesterol, no sodium and includes nearly half your daily value of vitamin C and has more potassium than a banana!
Over the course of the month I made a variety of different potato salads - 4 to be precise. They were all very different, all nice, and all of them photographed hurriedly either immediately after they were made, or moments before they were eaten, so I'm definitely not going to be winning any kudos for my photos this month!
First up, I did a mayo-free salad with caramelised onions and sausages. I'd say it served 4 as a side salad - we pretty much had it as our main course for dinner. The inspiration behind it was a bit of an onion backlog from our veg box! We had about 10 onions waiting to be used in the veg drawer, and I made a big batch with brown sugar, caraway seeds, sherry vinegar and of course lots of onions, which as well as this potato salad, found themselves into scones along with sheep cheese which turned out really well but sadly went un-photographed. I thinly sliced a few cocktail sausages and dry fried them until they were crispy, to add a bit of meatiness, since we were having it as a main meal, and made dressing with grain mustard, parsley, olive oil and a splash of vinegar.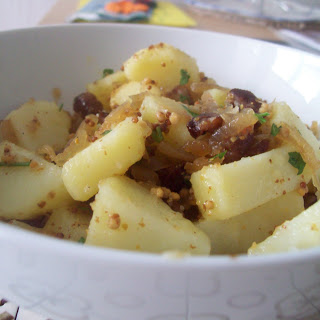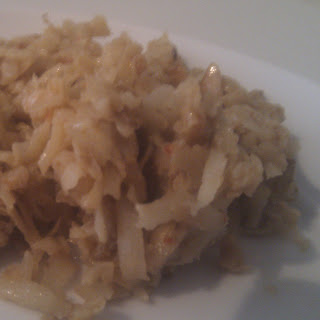 Makey-Cakey's take on Batatyacha Kees (serves 4 as a side dish)
4 medium potatoes
2 tbsp crunchy peanut butter
2 frozen chili cubes (probably equal to 2 red chilies, or 2 tsp chili paste)
1tsp cumin seeds
Pinch of salt
Pinch of pepper
Juice of 1/2 lemon
1.5 tbsp oil
Wash the potatoes thoroughly, and cut out any eyes, then grate (leaving the skins on). Soak the grated potato in a big bowl of cold water). After 5 mins, drain, rinse, and soak again with new water for another 5 mins. Heat the oil in a frying pan, and when hot, add the cumin seeds. When they start to pop, add the chili cubes. Add the potatoes and a little more oil if necessary, and fry until the potatoes are cooked (this took me about 10 mins until they stopped tasting starchy). Stir through the peanut butter and lemon juice and eat whilst still hot.
Next up I made potato and egg salad, with about 250g salad potatoes, scrubbed and boiled then cooled and chopped. I added 1 chopped hardboiled egg, 1 heaped tsp chopped capers, 1 tsp mint sauce, and 1 tbsp mayonnaise, and mixed thoroughly. I didn't add any salt, as there was some in the mint sauce and the capers had been brined. This generously served 2 as a side dish, and because there is only 1 tbsp mayo in it, isn't too heavy.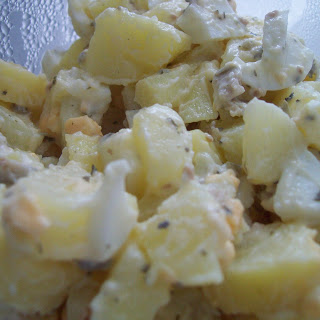 Any finally, I took another 250g salad potatoes, scrubbed and boiled then cooled and sliced. I fried them in 2 tbsp of oil from a jar of roasted peppers, and once they were golden and crispy on one side, I drained and patted off the excess oil and mixed them with 3 or 4 pieces of roasted pepper from the jar, chopped, 1/2 tsp of paprika, a pinch of salt, and 1 tbsp sherry vinegar.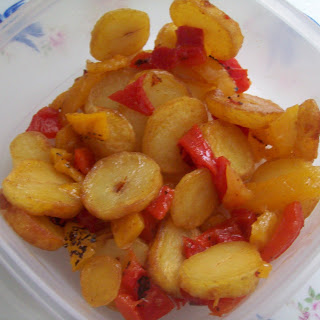 There you have it - potato salad 4 ways :o)