Daring Cooks' June 2012: Cannelloni
It's Daring Cooks' time again...

Manu from Manu's Menu was our Daring Cooks lovely June hostess and has challenged us to make traditional Italian cannelloni from scratch. We were taught how to make the pasta, filling, and sauces shared with us from her own and her family's treasured recipes!

I have to confess my heart sank a little when I saw what this month's challenge was. Cannelloni are usually smothered in creamy white sauce, topped with bubbling golden cheese and many of the filling options feature ricotta or soft cheeses. I made my sad face. I may have even stomped about the house a little, having a grump to myself, that I was going to have to miss out all the bits that make cannelloni delicious.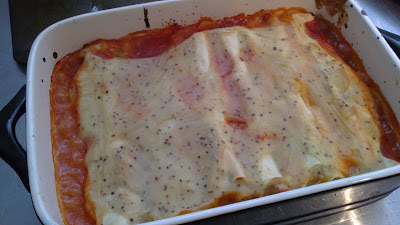 Lacking the bubbling cheese on top, but ticking all the other boxes!

I toyed with not participating - but you know, I'm a sucker for a challenge and not one to admit defeat, so after borrowing a pasta machine from a friend (Thanks other Mrs E!) I got stuck in. It was my first shot of a pasta machine, and lots of fun! Kind of like playing with play-dough when you used to get all the extruder attachments. Before we return it, I'm hoping to get a chance to let Mini-M turn the handle and help make some linguine.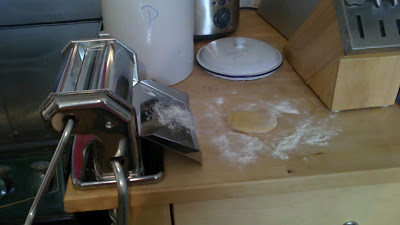 5 years at uni and an Engineering masters wasted - Pasta machine set up back to front!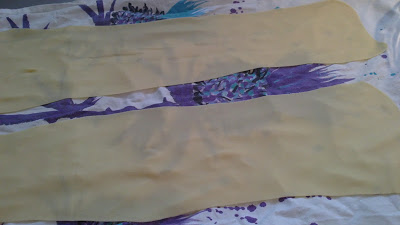 My strips of dough waiting to be cut. A bit wiggly, but nice and thin - not too bad for a first attempt.
I went for a mushroom filling, flavoured with tarragon and brandy. Confession time - I used a jar of pasta sauce!!!! Unintentionally, I might add. The dough was resting, the filling was made and it was time to make the tomato sauce - at which point I discovered the carton in the cupboard that I thought was chopped tomatoes was actually coconut cream, and the tin which I thought was tinned tomatoes was beans. Dolmio to the rescue - with Mini-M's return from nursery on the horizon, time was of the essence, and since I had a jar of tomato sauce that seemed like a better plan than an impromptu supermarket dash!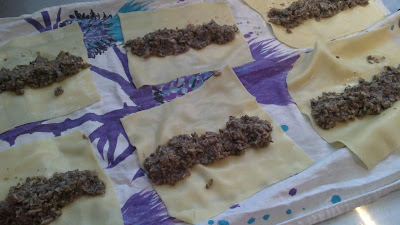 Ready to roll...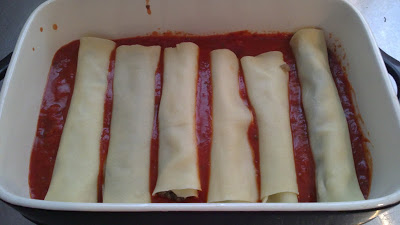 Pretend the sauce is home made ;o)
Instead of a béchamel made with butter and milk, I used olive oil for the roux base, then oat milk in place of regular milk. Oat milk can sometimes taste ever so slightly porridgy (not really surprising), but it easily overcome by adding a flavour, so I opted to mix in some wholegrain mustard.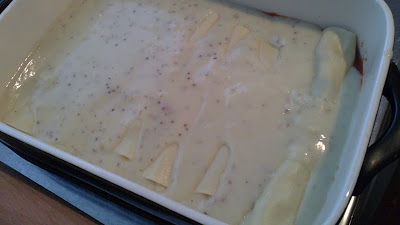 Ready for the oven