Leafless Salads - No Croutons Required June 2012
Today I had a really delicious lunch - health, filling and nutritious. It was an invention that thankfully worked out well, since it is my submission to this month's No Croutons Required challenge, hosted by Jacqueline at Tinned Tomatoes. She chose the theme of Leafless Salads, and without as much as a sprig of greenery in sight, this Tahini and Lemon Bulgur Salad fits the bill.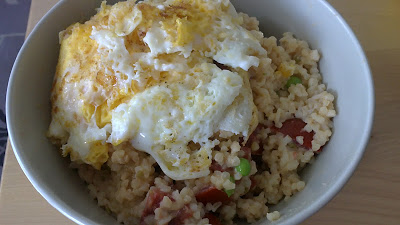 Sometimes unassuming can taste sooooo good!

I had cooked bulgur wheat leftover in the fridge, so that was an obvious starting point. There were also some 'sugardrop' tomatoes, and some pea pods which were fresh and lovely looking, so I decided they needed to feature too!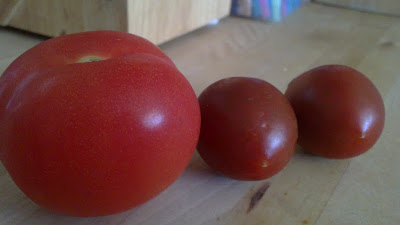 The sugardrop tomatoes are a lot darker than regular salad tomatoes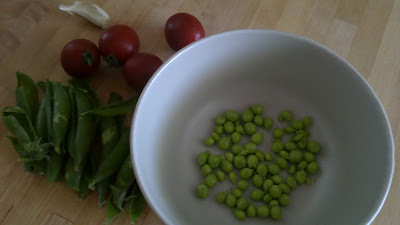 Tiny peas = supersweet


Today by lunch time I was also ravenously hungry - possibly because Mini-M appropriated a significant portion of my breakfast cereal this morning - so I topped it with an egg.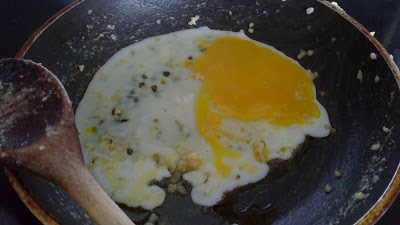 Ah well - not every egg cracks perfectly!

Tahini and Lemon Bulgur Salad with Fried Egg (Serves 1 as a main meal)


1/2 cup cooked bulgur wheat
8 small pea pods
4 sugardrop tomatoes (or 1 regular one, or 6 cherry tomatoes!)
1 garlic clove
Juice of 1/2 a lemon
1 heaped tsp light tahini
2 tbsp water
Pinch of salt
1 tbsp oil (I used lemon infused rapeseed which is delicious but any would work)
1 egg

Heat the oil in a small frying pan, crush the garlic and fry gently for a minute or two.
Shell the peas and chop the tomatoes into chunks.
Whisk together the lemon juice, tahini, water and salt to make the dressing.
Once the garlic is golden, add the peas and tomatoes and give them a 30 second sizzle then tip in the dressing.
Allow to bubble for a second, then tip in the bulgur, stir to combine, then tip into your serving bowl and allow set to the side.
In the same pan (add a tiny splash more oil if it seems dry) fry your egg, then slide it on top of the bulgur salad and eat straight away.

This was absolutely fantastic - I'll definitely be making it again - or something similar. The combination of egg and tahini is one I've heard others rave over but never tasted, but now I can see their point. They are an unlikely but delicious pair. This would also work well with whatever vegetables you might have lurking in your fridge - an infinite possibility of lunchtime feasts!