I can't help thinking the title of this post is probably an accurate classification of the general waffle and nonsense I usually end up writing in here! But I will press on undeterred, and write some more.

I love rhubarb. I have done since I was a kid, and during the summer would pick it from the back garden and eat it raw, dipped in sugar. It was sweet and tangy crunchy - kind of a like a fresh sherbet dip. However I am frequently recoil in horror at the cost of rhubarb in the shops - In my head, rhubarb is something that grows like a weed in people's back gardens, and they struggle to find ways to use up, and not something that cost £3 for about three stalks!

Luckily I have both parents and in-laws with home-grown rhubarb resources who often share :o) (Thanks guys!). I've not got my own rhubarb plant on the balcony, but it's just a baby still, so I don't think we'll get much from it this year. Provided I don't kill it over the winter, next year we should have rhubarb on demand.

A couple of weeks ago, I was given a big bundle of rhubarb which provided two delicious desserts.

Firstly, I made a Rhubarb and Custard cake using this BBCGoodFood recipe, which I de-dairified by using dairy free margarine (200g rather than 250g, as I find it more greasy), and ready made soya custard dessert.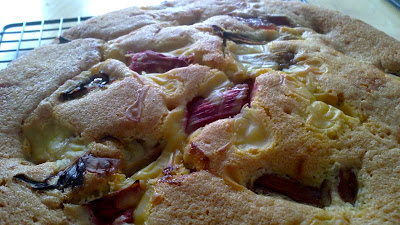 Plenty of chunks of rhubarb and custardy swirls

It was moist, fluffy and delicious with the tang of the rhubarb perfectly matched by the sweet vanilla-y custard. I took it into work when it was my turn on the cake rota, and it went down very well and no-one could tell that I'd used soya custard.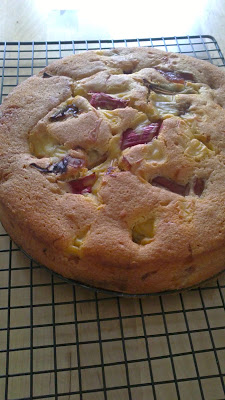 Rustic rather than elegant!

The recipe uses roasted rather than stewed rhubarb which is a lovely way to cook it. It becomes soft and tender without going completely mushy, and stayed in nice big rhubarby chunks in the cake.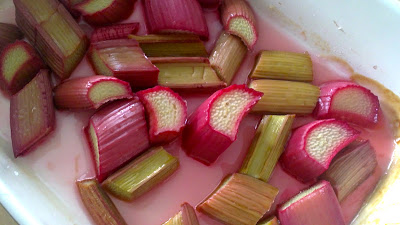 Roasted rhubarb turns the most gorgeous pink colour

I stewed the other half of the bundle, and Mini-M and I made rhubarb slump for pudding. She was very excited, jumping about the kitchen saying 'my making daddy cake' 'my mixing!' (whilst catapulting mixture all over the floor) and 'my like baking'. (We're working on the whole 'I/my' thing at the moment, but I'm cutting her some slack, since she's not even 2 yet. Mind you, as soon as that milestone is reached, the grammar bashing will start properly ;o) - only kidding!) There were even tears of frustration and rage when she had to wait for it to cool down before being allowed to try some, and every spoonful was eaten accompanied by a rapturous 'Mmmmmmm'. Did I mention she has some rather melodramatic tendencies...!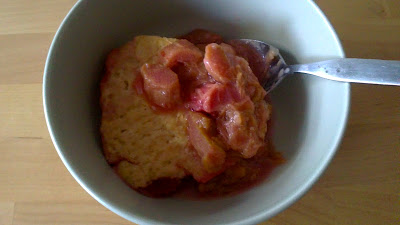 Slump by name, slump by nature

Anyway, here's the recipe...

Rhubarb Slump (Serves 4-6)

450g Rhubarb
6 tbsp Granulated Sugar
200g Self Raising Flour
1 Egg
30g Coconut Oil (which is solid)
40g Soya Margarine
4 tbsp Oatly Oat Milk
1 tbsp Desiccated Coconut
Chop the rhubarb into chunks, place in a medium sized pan, cover with cold water, add 2 tbsp of the sugar and stew until just tender.
Put the cooked rhubarb into a casserole dish.
Preheat the oven to 180C.
Stir together then remaining 4 tbsp sugar and SR flour, then rub in the margarine and coconut oil until it resembles breadcrumbs.
Add the egg and 2 tbsp of the oat milk. Mix until well combined. You are looking for a dollop-able rather than pourable consistency. Add a little more milk if required.
Spoon over the top of the rhubarb, then sprinkle with the coconut
Bake for about 25-30 mins until the top begins to brown and feels firm to the touch.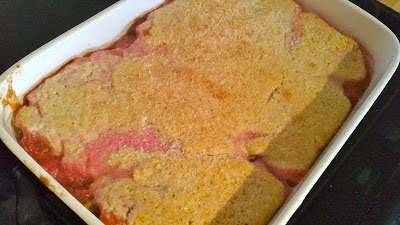 Baked and cooling down - temper tantrum not photographed!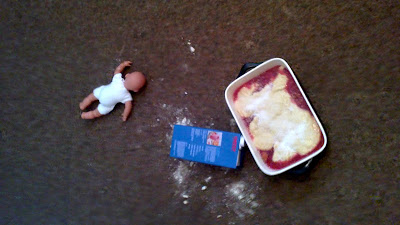 Mini-M's serving suggestion - an aesthetic masterwork?!