Easter Baking - Simnel Slice
This year, my day on the cake rota at work, and Easter have come in quick succession, and so I baked some Simnel Slice that is great for sharing.

I used a BBCGoodFood recipe for Fruity Simnel Squares which I made some modifications to to make it dairy free. It seemed to go down well with everyone that has eaten it - even me, a self confessed marzipan skeptic! The original recipe says it cuts into 15 - well I have to say they must be 15 very big servings - I comfortably got 20!

Here's my version - it seems long, but it's quite simple to put together, and the list looks longer than it really is, because the same block of marzipan appears three times, cut into different sized pieces!


Simnel Slice (cuts into 20)

For the cake...
250g raisins
100g dried apricots, chopped
85g glace cherries, chopped
Zest of 1 lemon
180g dairy free sunflower margarine
80g dark muscovado sugar
120g granulated sugar
4 eggs
200g self raising flour
50g ground almonds
1 tsp mixed spice
Generous pinch of ground cinnamon
1/2 tsp freshly grated nutmeg
250g white marzipan cut into chunks
For the topping...

50g dairy free sunflower margarine
50g granulated sugar
100g plain flour
3 tbsp golden syrup
180g marzipan
For the icing...

85g icing sugar, sieved
Juice of 1 lemon
70g marzipan (what's left of a 500g packet after you've made the cake and topping!)
Start by greasing a 30x20cm tin and lining the bottom and two edges with baking parchment.
Preheat the oven to 160C (140C fan).
Cream together the margarine, muscovado and granulated sugar.
Once well combined, add the eggs and beat thoroughly.
Sieve the flour into the bowl, then stir in the ground almonds, lemon zest and spices.
Add the dried fruits and marzipan chunks and mix to combine.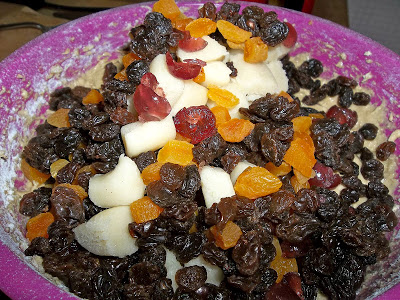 Marzipan chunks, not Babybel Cheese!

Spoon into the prepared tin and spread to level - you may need to slightly redistribute the marzipan if it has clumped together.
Bake for 45 minutes - it should be golden on top but not quite set in the middle.
Remove from the oven and then turn the heat up to 200C (180C fan).
Rub together the margarine, sugar and flour for the topping.
Grate in the marzipan and stir to coat in the crumbly flour to stop it all clumping together.
Drizzle over the syrup and mix gently with a fork to stop it form clumping too much.
Crumble it evenly over the top of the cake.
Put it back in the oven for another 15mins (keep an eye on it - it might not need quite as long - you don't want it to brown too much).
Roll the remaining marzipan into balls whilst you're waiting - I made about 10 smallish marble sized ones.
Cool the cake in the tin, and once it is cold, mix together the sieved icing sugar and enough lemon juice to reach drizzling consistency, and liberally douse the top of the cake.


Let the icing set a little bit, before slicing - yum!


I'm entering this in the April Tea Time Treats blogging challenge, dreamed up by Lavender and Lovage and What Kate Baked. It's hosted by Kate at (you guessed it) What Kate Baked, and the theme is Easter.