An unintentionally British Pan Bagnat: Geeky Stats Cooking - Monaco
Time for another installment in my world tour of Geeky Stats Cooking, where I am gradually attempting to cook something from every country that I've not had a visitor from, according to Google Analytics.

This time, it's Monaco.





I'm not claiming this recipe is authentic - more the concept. Thought I should clarify that at the outset, as you'll quickly spot that British favourite - a crusty white farmhouse loaf. Not generally found in Monaco. But I left my shopping until the last minute, and this was the only unsliced loaf left, so crusty white farmhouse it was!

Pan Bagnat is a speciality of Monaco, and the Nice area of France. It translates as sodden bread - but don't worry. Not sodden as in left sitting out in the rain (because obviously it never rains there...) but more soaked with olive oil, tangy dressing and ripe tomato juice.

Served Nicoise, it is filled with anchovies, hard boiled eggs, vegetables, tuna and olive oil - pretty much like a Nicoise salad. Served Monegasque seems to mean less tune, more peppers and more olives.

It's a great picnic food (just make sure you use a round crusty loaf that you can serve cut into wedges, rather than my makeshift crusty farmhouse, which made eating it complicated and messy!!!). You could literally stuff it with anything. Grilled courgette or aubergine would be fantastic. Mozzarella. Salami. The key is that you make it the day before you want to eat it, to allow the bread to soak up the juices, and that you wrap it tightly to help it stay together.




Pan Bagnat (Serves 6-8)


1 medium loaf of crusty bread
10 basil leaves
1 heaped tbsp red pesto (mine was dairy free)
2 tins tuna in oil, drained
1 inch chunk of cucumber thinly sliced
1 medium red pepper cut into matchsticks
2 tbsp extra virgin rapeseed oil
Pinch salt and pepper
1 tbsp cider vinegar
1/2 400g jar arrabiata pasta sauce (nice and spicy is good)

Cut the top off of your loaf and carefully pull the bread out of the insides, leaving about 2cm of bread still attached to the crust. That makes it sound awfully precise - it isn't really - just leave a bit!
Take the pesto and spread it all over the inside of the bread shell and the underside of the lid.
Put about 6 of your basil leaves on the bottom of the loaf (save 4 for under the lid).
Mash up one tin of tuna and spread it over the bottom.
Add about half of the arrabiata sauce and spread it over.
Top with the cucumber slices.
Mix the sliced pepper with the rapeseed oil and vinegar and season with salt and pepper, then scatter over the cucumber, pouring over all the dressing too.
Mash up another tin of tuna and spread it over the peppers.
Top with the remaining half of the arrabiata sauce, and cover with the remaining four basil leaves.
Put the lid back on and wrap very tightly in cling film.
Leave overnight in the fridge, and allow to come to room temperature for an hour or so before slicing and serving.

This was so tasty! We ate it for a picnic lunch with family at the Dalkeith Country Fair (whilst watching jousting none the less) then Mr E and I had no qualms about having the leftovers for dinner! You know something's good when you'll happily eat it for consecutive meals. And we'll definitely be trying some different versions at future picnics.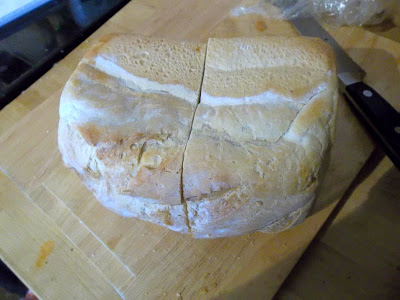 Crusty farmhouse exterior belies the stealthy spicy crunchy tuna party inside!