What to do with that jar of artichokes…
You know, the ones that are lurking in the back of your cupboard that either a) were given to you as a gift, most likely part of hamper or deli selection b) you bought in a fit of supermarket creativity only to get home and lose all signs of inspiration or c) you bought on special offer along with sun dried tomatoes and peppers, both of which have long since been used, leaving the jar of artichokes hanging their heads in shame feeling unloved and left on the shelf.

Well - you could do a lot worse than making Pea and Artichoke Houmous.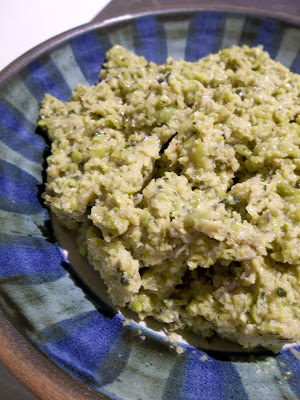 I used a BBC GoodFood website recipe by Mary Cadogan, which you can find here. For once I changed nothing at all, and even remembered to buy mint to make it, rather than resorting to using the sad windowsill parsley like I usually do.

It tastes nothing like houmous - unsurprisingly - since there isn't a chickpea in sight! But once you cross that mental barrier, it is lovely - springlike and fresh, but made from easy to get hold of ingredients meaning it can be created any time of year equally well - although I'm sure some home grown garden mint would pack an extra delicious punch!

I am a big fan of recipes that only have 1 step in the method. And this is one of them - basically stick half a jar of artichoke hearts, a couple of handfuls of defrosted frozen peas, a couple of tsp of cumin, a big squeeze of lemon juice, a generous glug of olive oil and a small bunch of mint into the food processor and blitz. Done! No prepping, no chopping, no cooking. Just whizz and eat. (If you're serving it to guests, it's probably best to decant it from the food processor first of all.)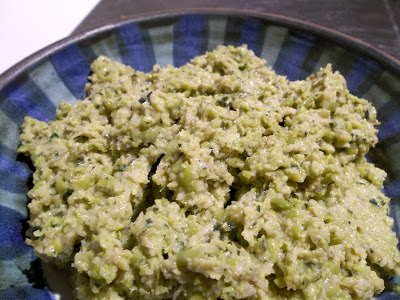 I'm submitting this to April's No Croutons Required challenge, hosted by Tinned Tomatoes, which was to make a vegetarian soup or salad using Antipasto.