Eat your heart our Mr Kipling! Homemade Fondant Fanices
Fondant fancies are one of those cakes that I always wanted growing up as a kid, and when we did get them, usually as a treat or when we were visiting people, even then they always used to disappoint, but being, well, kind of fluffy and not really tasting of anything apart form sweet.

I have solved that problem now! Here's how to make some fantastic and flavourful fondant fancies with a hidden luxury... instead of being filled with white goopy icing, the little bump on the top is, in fact, half of a Lindor truffle.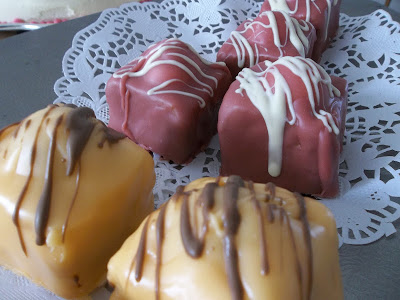 I cheated with the icing a little, and used some meltable icing for pouring, made by Renshaw. It is technically from their Flossie Crums kids range, but it worked a treat! You just zap it in the microwave, give it a stir and you're good to go. Sometimes shortcuts like that are worth taking - particularly when you've got 9 different cakes to bake for a charity cake auction, like I did when I made these!



This is the raspberry version

So on to the recipe...

Basic Sponge
Crack your eggs and weight them. Remember that number - that's how much of the other ingredients you need to guarantee you a light and fluffy sponge. We'll call it "X"from now on...

"X"g butter or margarine
"X"g granulated sugar
"X"g self raising flour
For the raspberry version - 2-3 tbsp raspberry cordial (Mine came from a Polish deli, if you can't find it in the supermarket)
For the passion fruit version - the sieved juice of 1 ripe passion fruit

Preheat the oven to 180C (160C fan). Grease and line a divided cake tin. If you don't have a divided cake tin, just use a square tin and cut it after - the edges won't be quite as neat but under the icing no-one will ever know...
Beat together the butter and sugar until fluffy, then add the eggs. Add the flour next, then the raspberry cordial or passion fruit juice.
Spoon the mixture carefully into the prepared tin - I filled 8 out of the 16 partitions each batch, then took the best four of each for icing.
Bake for about 15 mins until risen, golden and springy to the touch.
Allow to cool slightly, then carefully remove from the tin and allow to cool completely.

Icing and decoration

2 white Lindor truffles
2 milk Lindor truffles
2 squares white chocolate
2 squares milk chocolate
1/2 tub raspberry Magic Melting icing
1/2 tub tropical fruit Magic Melting icing
Trim the tops off any of the fancies that haven't risen evenly.
Cut each truffle in half and place a half, cut side down, on top of each cake. I went with white chocolate on the passion fruit cakes, and milk chocolate on the raspberry cakes.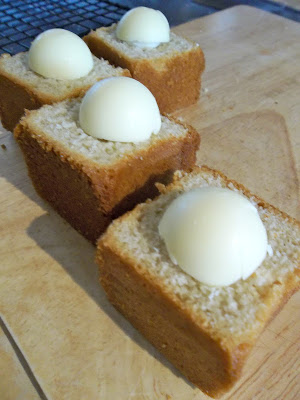 Place a wire cooling rack over a large mixing bowl, and put four of one of your cake types on top.
Melt the icing in the microwave according to the instructions, then carefully spoon it over the top of the cakes.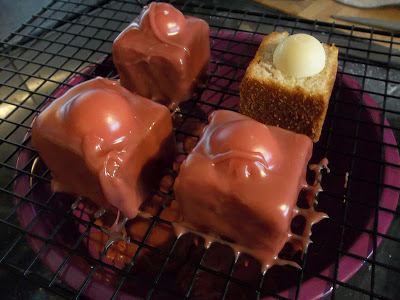 I found it cooled quite quickly and needed an extra zap half way through to stop it setting too quickly. The excess icing will run through the gaps in the wire cooling rack and collect in the bowl. If it's not too crumby, it will still be usable.
Then melt 2 of the squares of chocolate in a small bowl and drizzle over the top.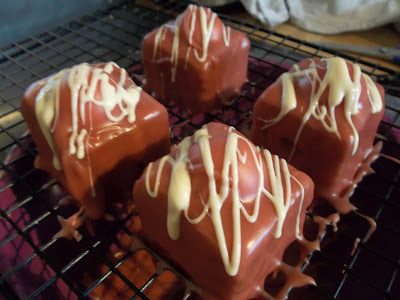 Allow to dry completely before gently cutting loose from the cooling rack.

If one of these bad boys took on a shop bought fancy in a fight, I know which one my money would be on!!!!