Get your kilt on and let's make some haggis!
It's Daring Cooks' posting time again, and this month the host was… me!

Throughout the Daring Cooks' challenges there has been a strong theme of hosts sharing some of the culinary specialities of their home country and culture, and there are some very daring cooks out there, so there was only one contender for the challenge recipe in my mind - haggis. Oh yeah.

In preparation for the challenge I was a little concerned a) I'd made it too daring for even myself to carry out, or worse, b) that by making it, I'd put myself off haggis forever.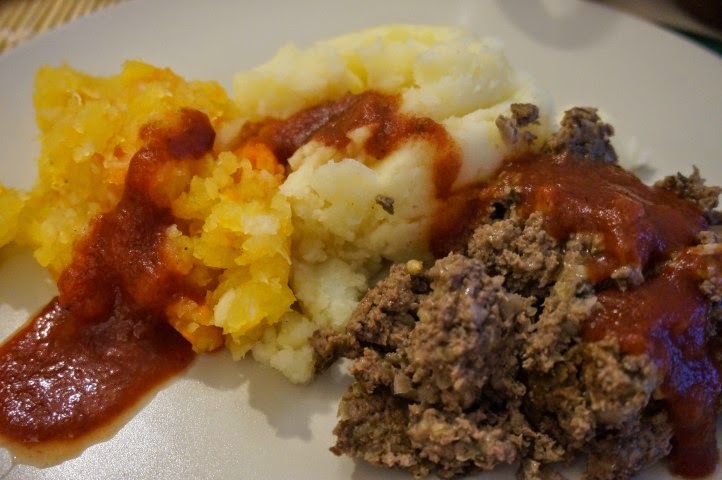 Haggis, neeps, tatties and… smoky tomato sauce. Whatever floats your sauce boat

Issue a) was solved by going for a slightly toned down haggis, largely due to the easy availability of ingredients for both myself and the cooks around the world that might be giving it a go. Issue b) was thankfully not an issue - haggis is still awesome - and probably less disgusting than quite a lot of sausages out there on the market, if you think long enough about it.

Blog Checking Lines
The June Daring Cooks Challenge was hosted by Ruth from Makey-Cakey. She brought out the Daring-est of Daring Cooks and challenged us to make real Scottish Haggis.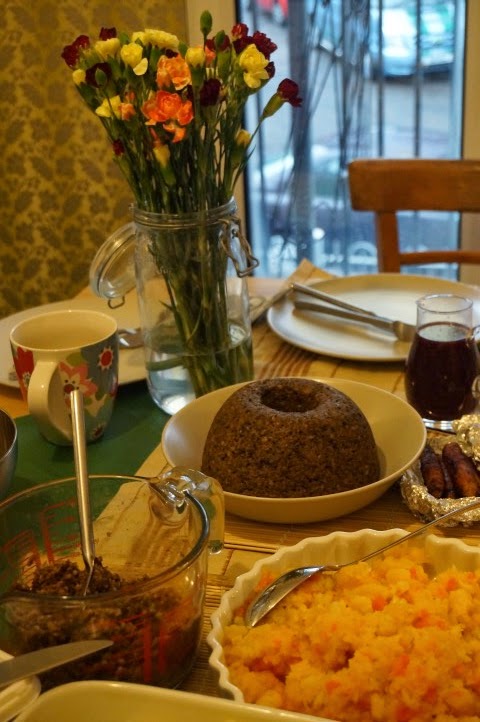 Served at a rather non-traditional Burns lunch (since a Burns supper would have been post bedtime for Mini-M and her intrepid haggis eating toddler friends, way back in January)

For those that don't eat meat, or weren't quite feeling like getting acquainted with some heart and liver, I gave a really delicious veggie option too.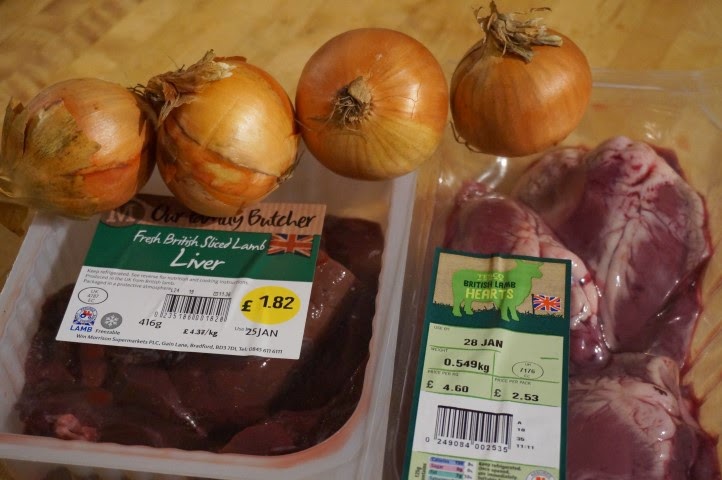 Mmmm - appetising

So without further ado, onto the haggis. I'm calling this "Home" haggis - i.e. you can make it at home fairly easily. It's non-traditional, in that it doesn't include lungs, and isn't steamed in a casing. It's made of liver and heart plus oatmeal and suet, and steamed in a pudding basin. It still tasted good and haggis-y though.



"Home" Haggis (Serves 6)



1 tsp ground black pepper

A little butter, margarine or oil to grease
Peel the onions, but leave whole. Put in a large pan along with the hearts and liver. Cover with cold water and bring quickly to the boil.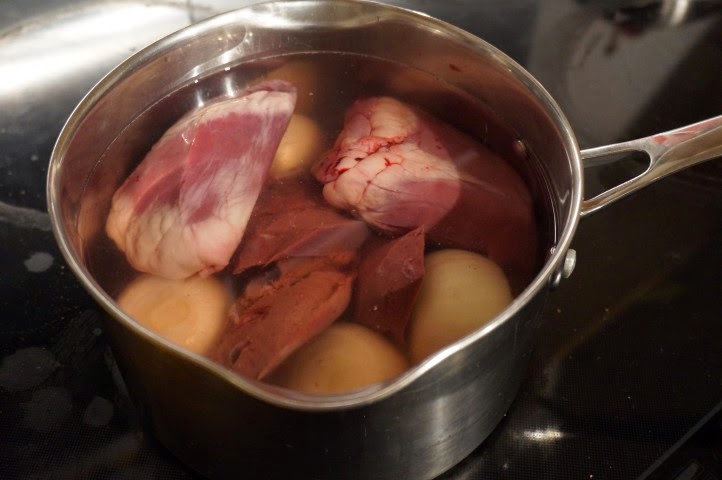 This is probably the low-point of the haggis gross-out cooking experience. It gets better...
Skim off any froth, drain and re-cover with water, bring to the boil again, reduce the heat and simmer for around 40 minutes, keeping the hearts and liver covered.
Drain, reserving a little of the cooking liquid (100ml will be plenty), and put the onions, hearts and liver into a food processor or blender. Pulse until finely chopped (or pass through a mincer).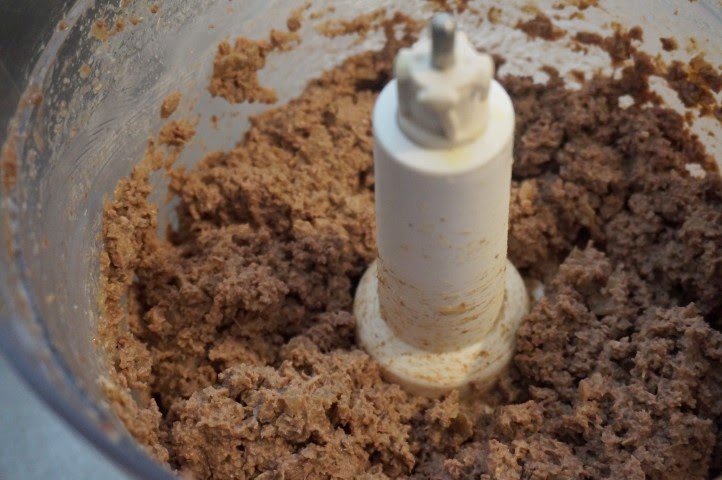 Blitzed
Stir in the oatmeal, suet, herbs and spices. If the mixture is very stiff, add a splash of the cooking liquid. It should be solid rather than liquid, but soft.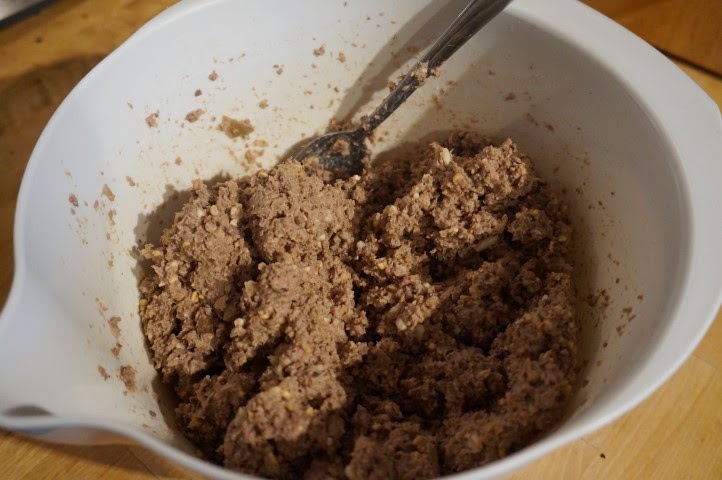 After mixing in the oatmeal
Grease a 1l pudding basin, fill with the haggis, cover with foil securely and tie the foil on with string.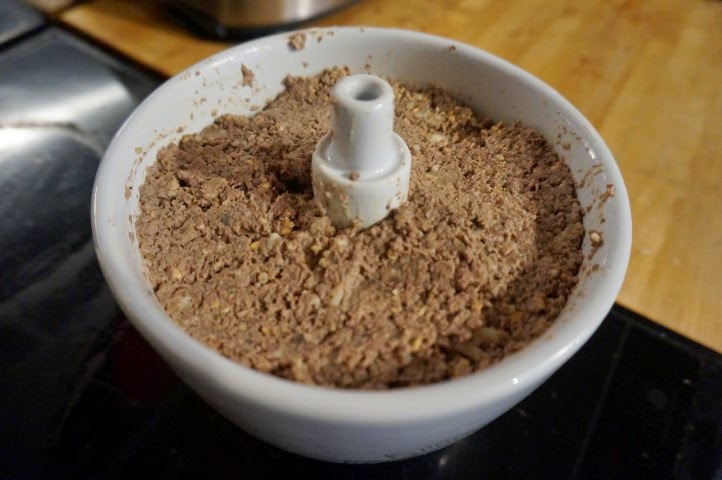 Before steaming
Put the trivet on the bottom of the pan, and the tied pudding basin on top. Fill with water to ½ way up the sides of the basin.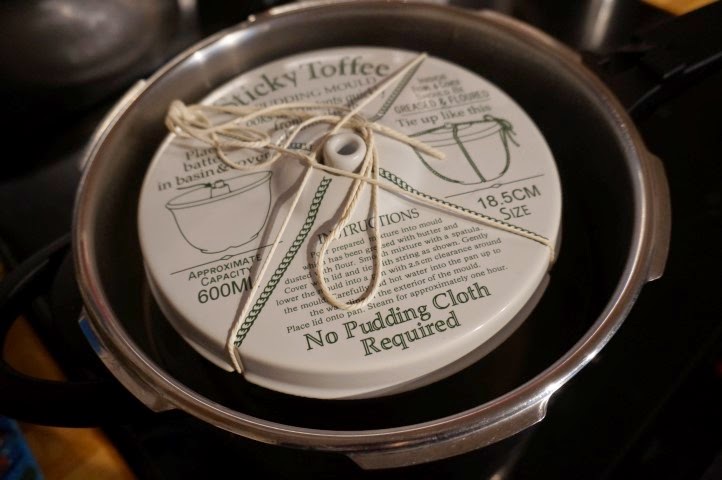 A tight squeeze - makes lifting it out more nerve-wracking
Bring the water to the boil over a medium heat, then reduce to maintain a gentle boil and simmer away for 2hrs, topping the pan up with water as needed.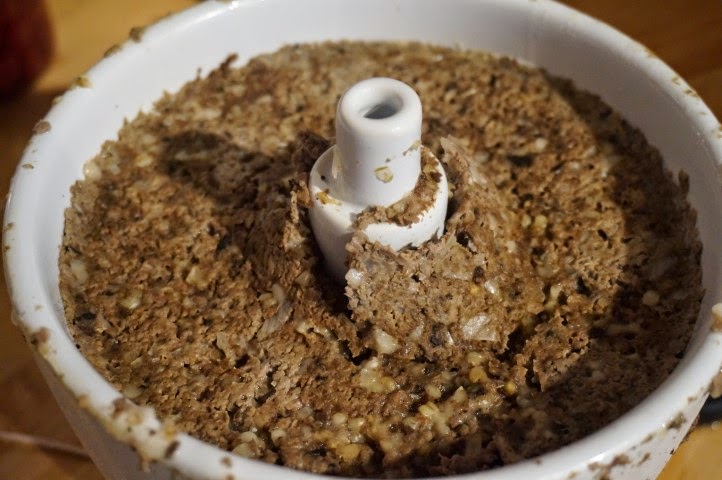 Cooked
Remove from the heat and very carefully unmold from the basin, and the haggis is ready to serve.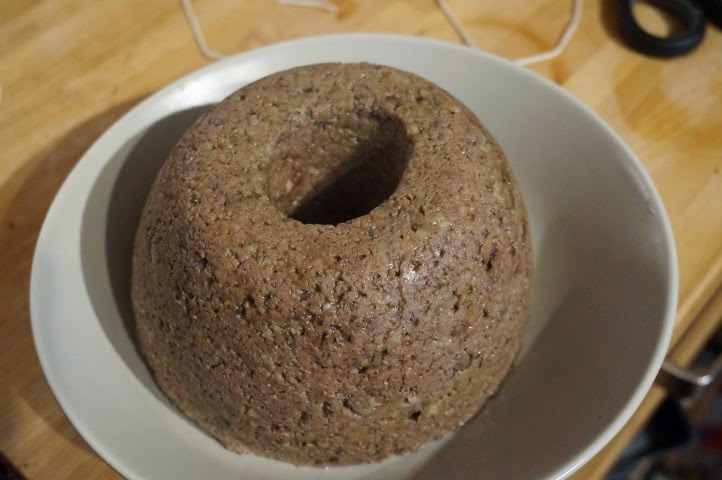 Houston, we have haggis!

And now for the veggie one. I love veggie haggis. It tastes nothing like meat haggis, but completely fantastic in its own right, and has a very similar texture. Some days I'd choose veggie over meat. Other times meat wins. It's certainly not a second class substitute!



Veggie Haggis (serves 6)



1 carrot (~150g unpeeled)

50g drained tinned red kidney beans

75g nuts (I used 20g cashews, 30g brazil nuts, 25g peanuts)

½ tsp ground white pepper

½ tsp ground black pepper
Bring 250ml water to the boil in a small saucepan, then add the stock cube and the lentils. Simmer for around 15 -20 minutes until the lentils are soft, and most of the liquid has been absorbed.
Meanwhile, finely chop the onion and celery and peel and grate the carrot.
Heat the oil in a large frying pan and add the chopped onion, celery and grated carrot. Sautee for around 5 minutes until softened.
Finely chop the white mushrooms and add to the vegetables in the pan, and cook for a few more minutes.
Mash the kidney beans with a fork, and add them to the frying pan, along with the thyme, soy sauce, lemon juice, mace, peppers, salt, oatmeal and suet.
Turn the heat down to very low and allow to cook gently whilst you chop the nuts - you can use a blender to blitz them if you have one. If the mixture is very thick, add a splash more water, then stir in the nuts.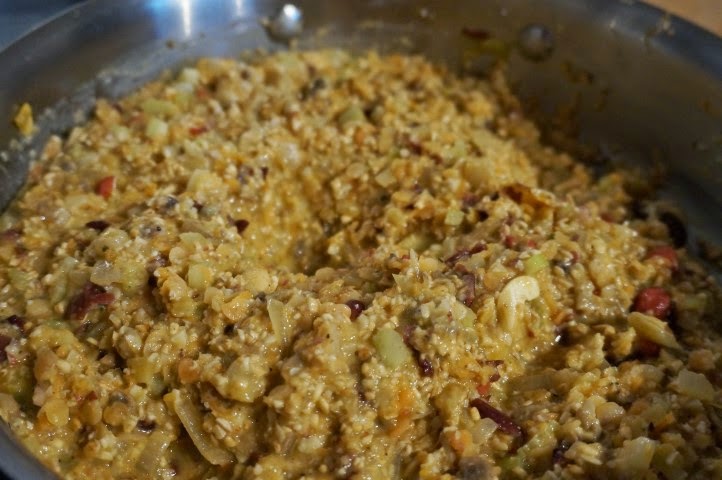 It is not a glamorous dish… please don't draw any unflattering comparisons! Photo included for indication of consistency before baking.
If you are preparing the haggis to eat straight away, then cook gently for around 10 minutes, turn off the heat and allow to cool for 20 minutes. Grease your loaf time and preheat the oven to medium - around 180C. Spoon the haggis in to the prepared tin, cover with foil and bake for around 30 minutes (uncovering for the last 5). Allow to rest for 5 minutes before serving.
If you are preparing the haggis to eat the next day, don't cook for the additional 10 minutes, remove from the heat after adding the nuts, cover, allow to cool, then refrigerate overnight. When you are ready to finish the cooking, preheat the oven to around 180C, remove from the fridge and cover with foil. Bake for around 45 minutes, uncovering for the last 5). Allow to rest for 5 minutes before serving.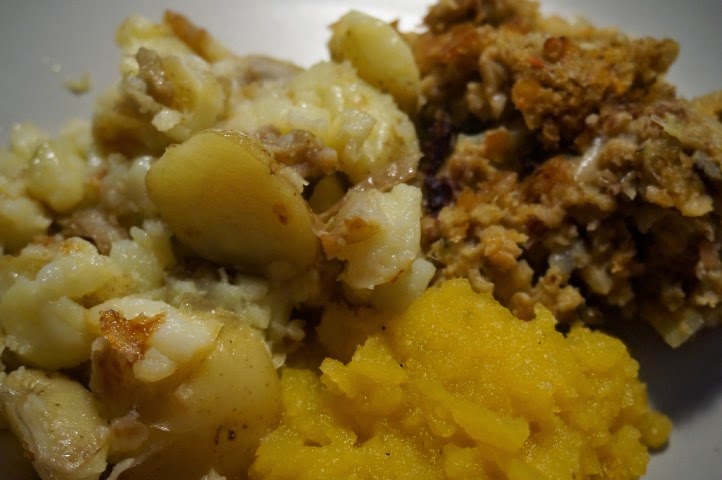 It is hard to take a beautiful photo of haggis, with no natural daylight...
Thanks to all the intrepid cooks who gave haggis a go - especially to the few (very few!) who braved the meaty version. I'm going to post links to some of my favourites later in the week.
Haggis is traditionally served with mashed potatoes, mashed turnips and some whisky sauce. However if you've got leftovers, they make some great savoury scones (among many other things) which I have blogged previously.
Now let's see what challenge next month brings :o)