Random Recipes #40 - Bacon and Egg Pie
I shall start this post by noting that it is a very good thing that I am far better at managing deadlines at work, than I am with blog challenges.

I'm writing this AFTER this month's Random Recipes challenge roundup has been published - you can find it here (and there are some scrummy looking entries as always). As ever, the challenge is hosted at Belleau Kitchen and participants are encouraged to choose a random book and recipe from their collection and make whatever comes up.

A change from my usual form, this was not an unmitigated disaster, as my RR submissions have often been. It looked exactly like I hoped it would. How it tasted, I have absolutely no idea as I gave it to my lovely little sister as a thank you.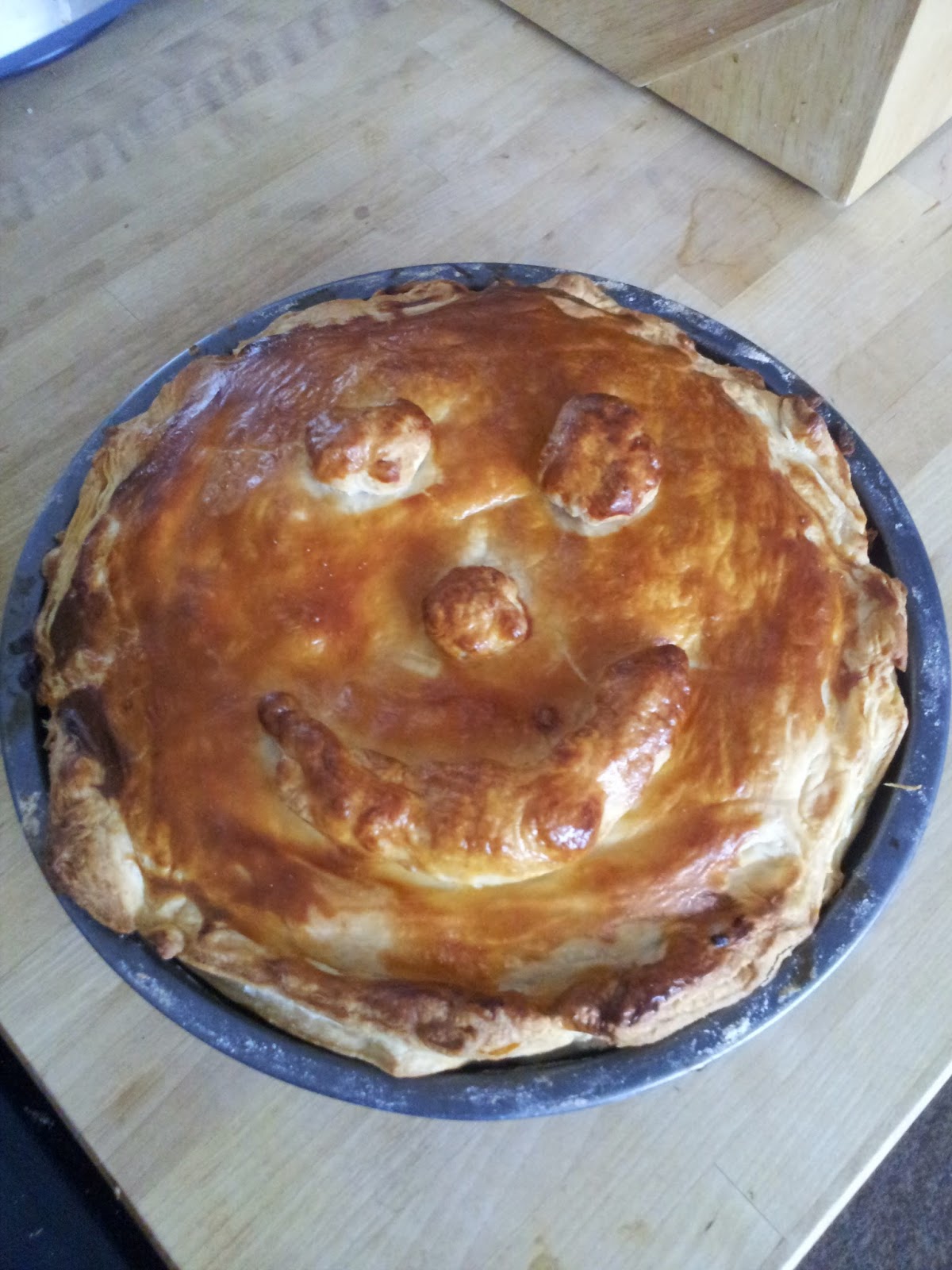 Smile - it's a pie!

So… my Random Recipes #40 came from "Traditional Scottish Cooking" published by Lomond Books. I had good intentions to make the recipe on page 40, but it was Herrings in Oatmeal, and I really really really can't stand all those teeny, unfilletable herring bones. So I closed the book in a strop, opened it again and got page 74 - Bacon and Egg Pie.

I tweaked a few bits and bobs here and there, and cheated with the pastry. So here's my version

Happy Bacon and Egg Pie (Serves 6ish along with salads etc)


500g pack ready to roll puff pastry
250g smoked streaky bacon
3 eggs
1 large eating apple
50g cheddar with chili or Mexican spices
50g regular unflavoured cheddar
3 tomatoes
1 tbsp chutney (I used rhubarb relish)
Splash of milk/egg wash

First boil the eggs (hard boiled) and cook the bacon (I used a griddle pan, but however you usually cook bacon will work perfectly).
Preheat the oven to 220C (200C fan).
Very lightly grease a 9 inch sandwich tin
Peel and slice the eggs
Slice the tomatoes
Snip the cooked bacon into pieces about 2cm wide.
Grate both cheeses and mix together.
Divide the pastry block so one part is approximately 1/3 and the other 2/3.
Roll the large piece out, on a floured work surface, and use to line the base and sides of your tin. Cover the other piece to prevent it drying out whilst you layer your pie.
Next slice the apple (I left the skin on for extra fibre, but you could peel it if you felt strongly anti-apple-skin) - doing this just before you assemble stops it from going brown.
Spread the chutney thinly over the bottom of your pastry-lined tin.
Cover the bottom of the tin with the apple slices, overlapping if necessary.
Next layer the bacon on top of the apples.
Add the sliced hard boiled egg, and then the tomatoes.
Lastly top with the grated cheese.
Now roll out the remaining piece of pastry to fit the top.
Before putting the pastry lid on, lightly wet your finger with a little of the the milk/egg wash and run your finger around the edge of the pastry sides to help the lid stick.
Pop the lid on and press firmly around the edges to seal.
Use any trimmings you have to make a happy face to go on top, attaching the pieces with a little dab of the egg/milk wash.
Brush the top with a good layer of the egg/milk wash and then bake for around 35 minutes until golden and puffed up on top.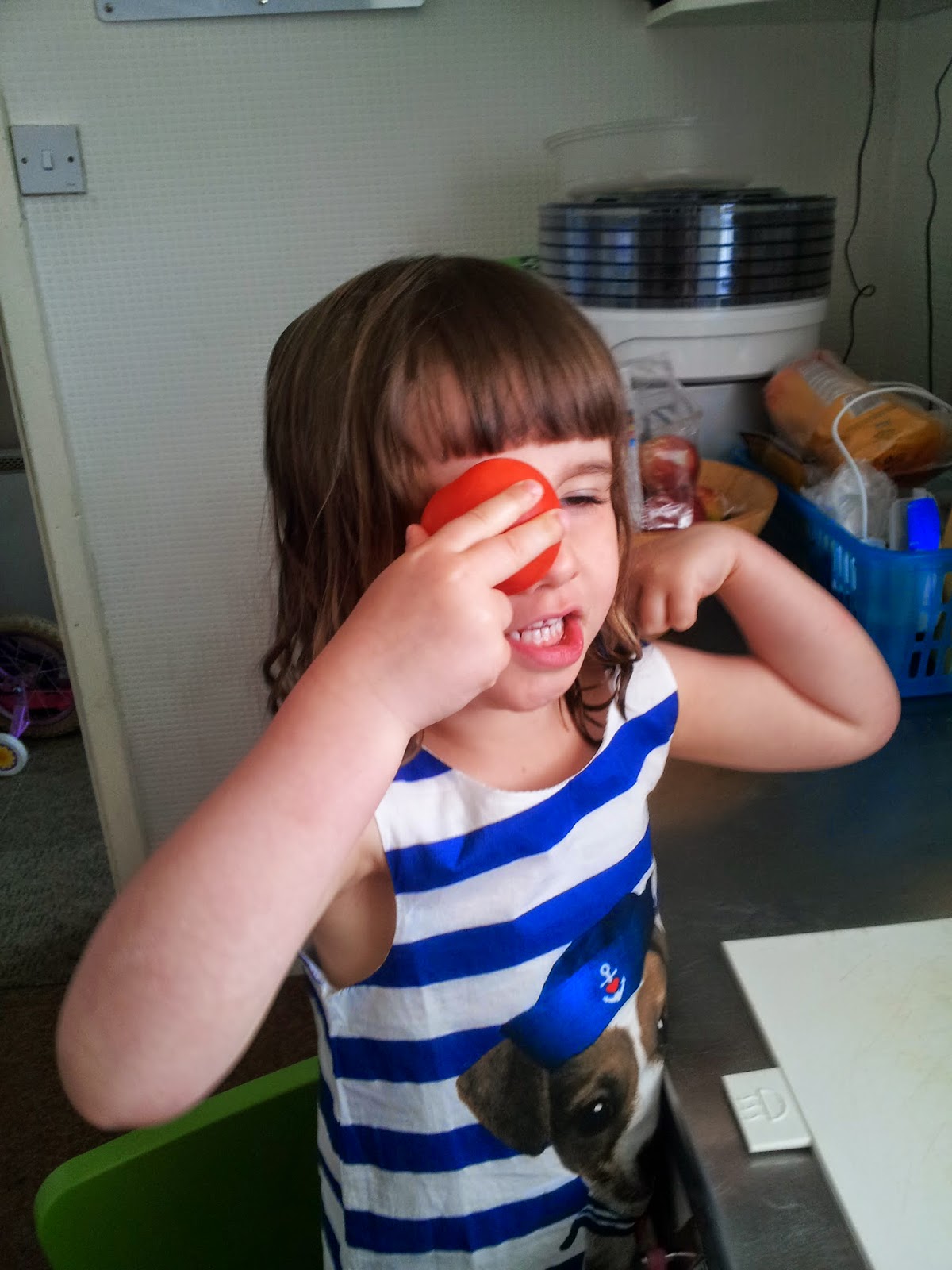 Arrrr me hearties! - having a tomato inspired pirate moment to begin with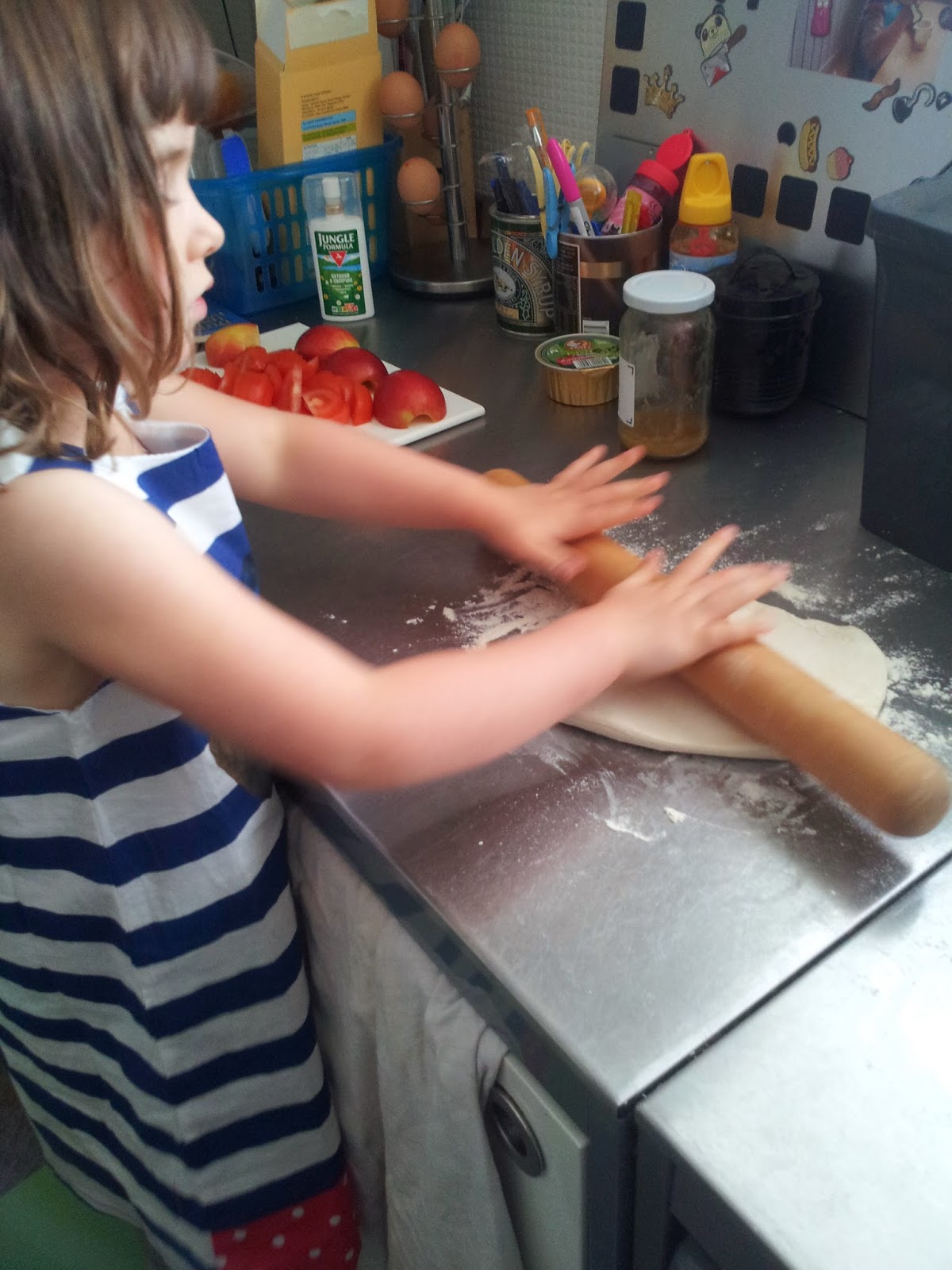 Pastry rolling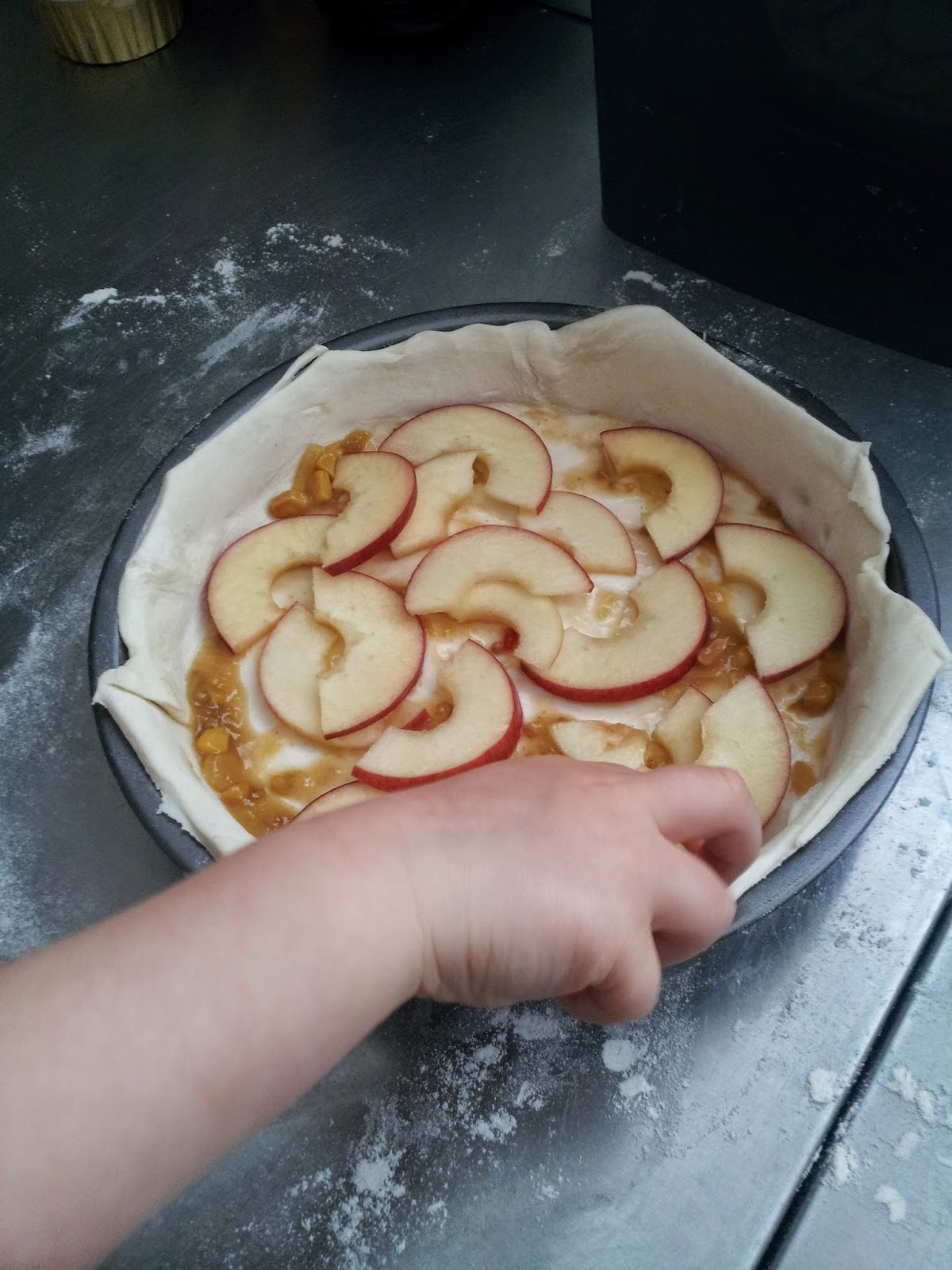 Apples - check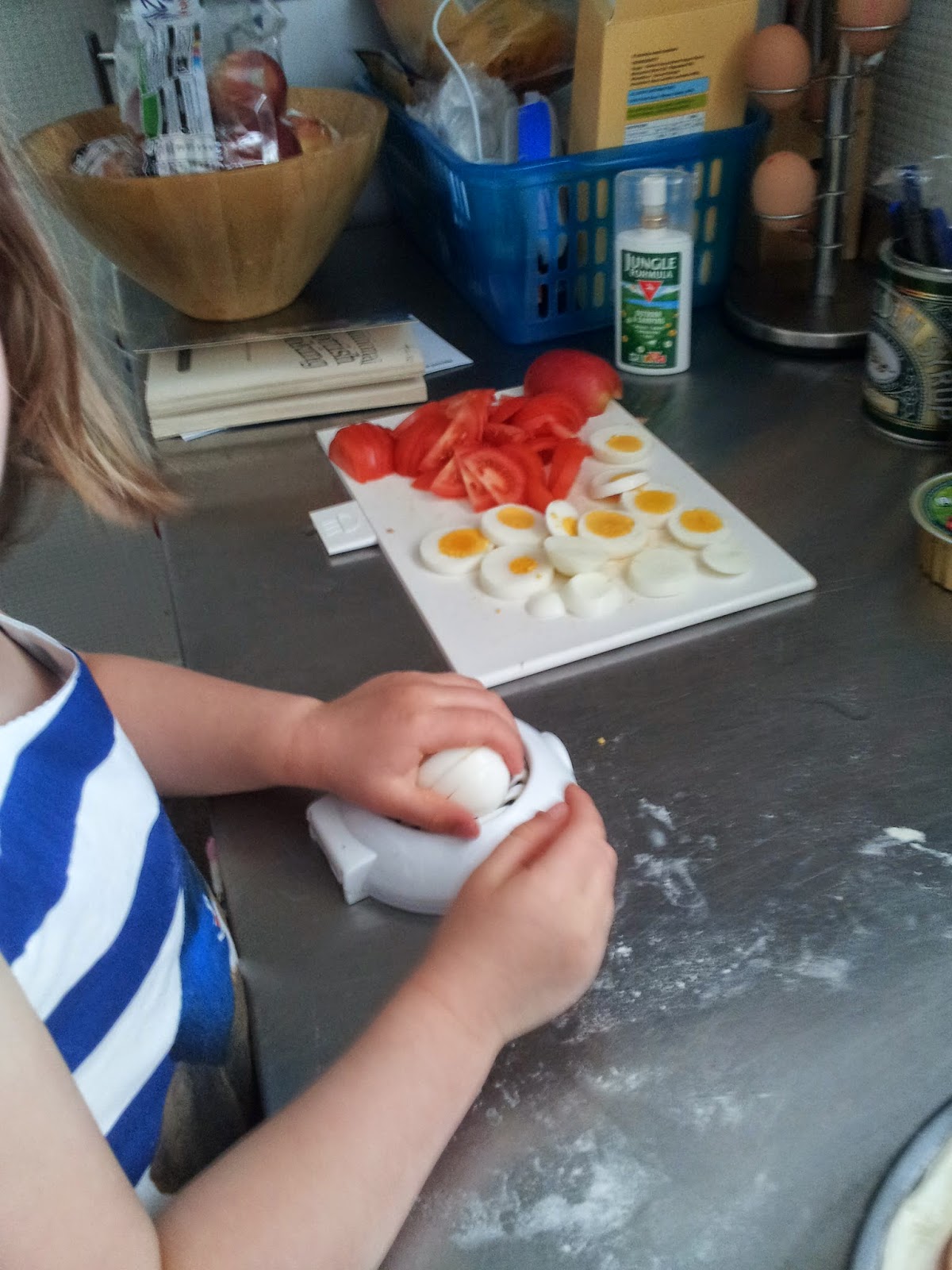 Egg slicing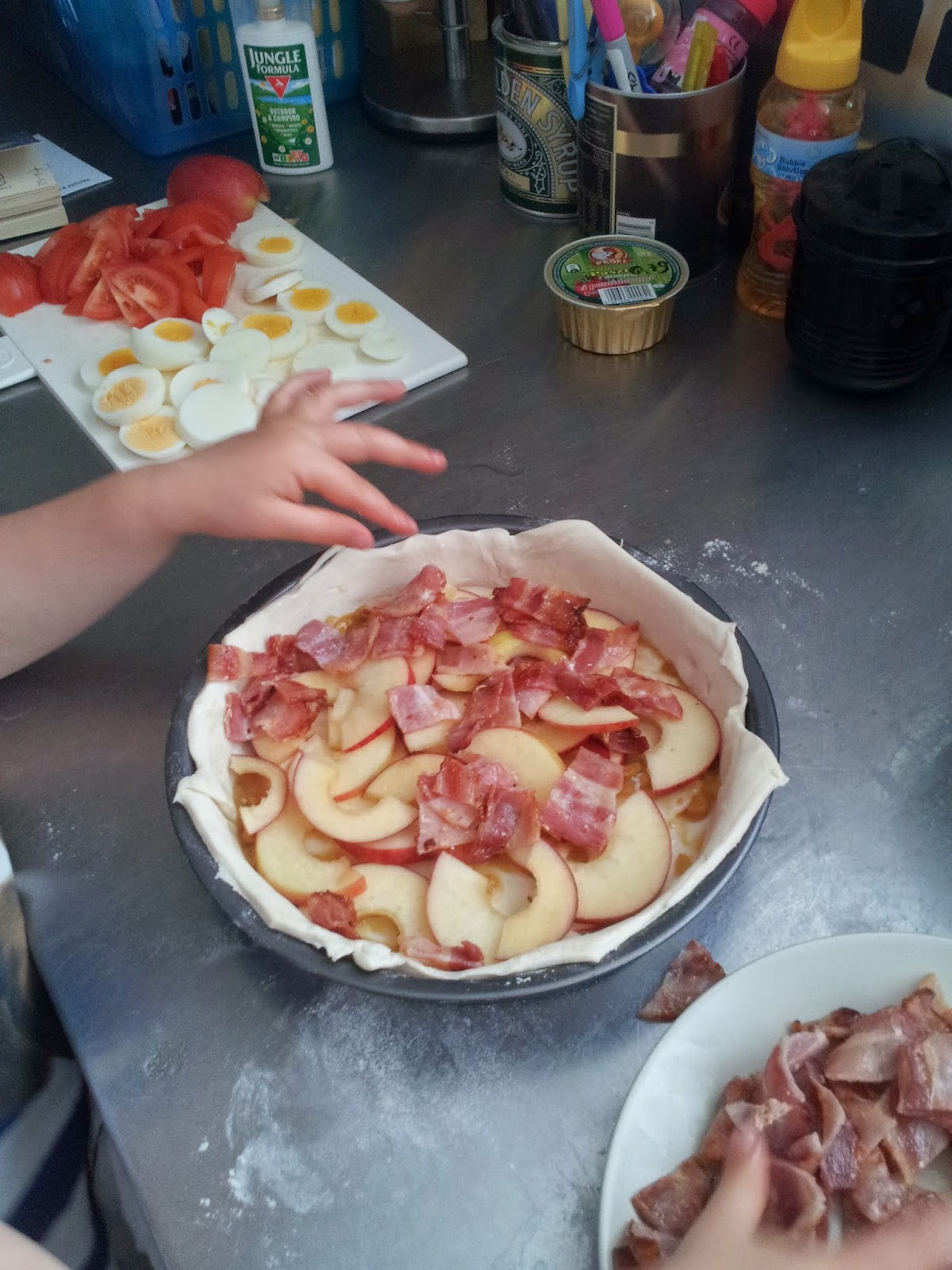 Bacon - check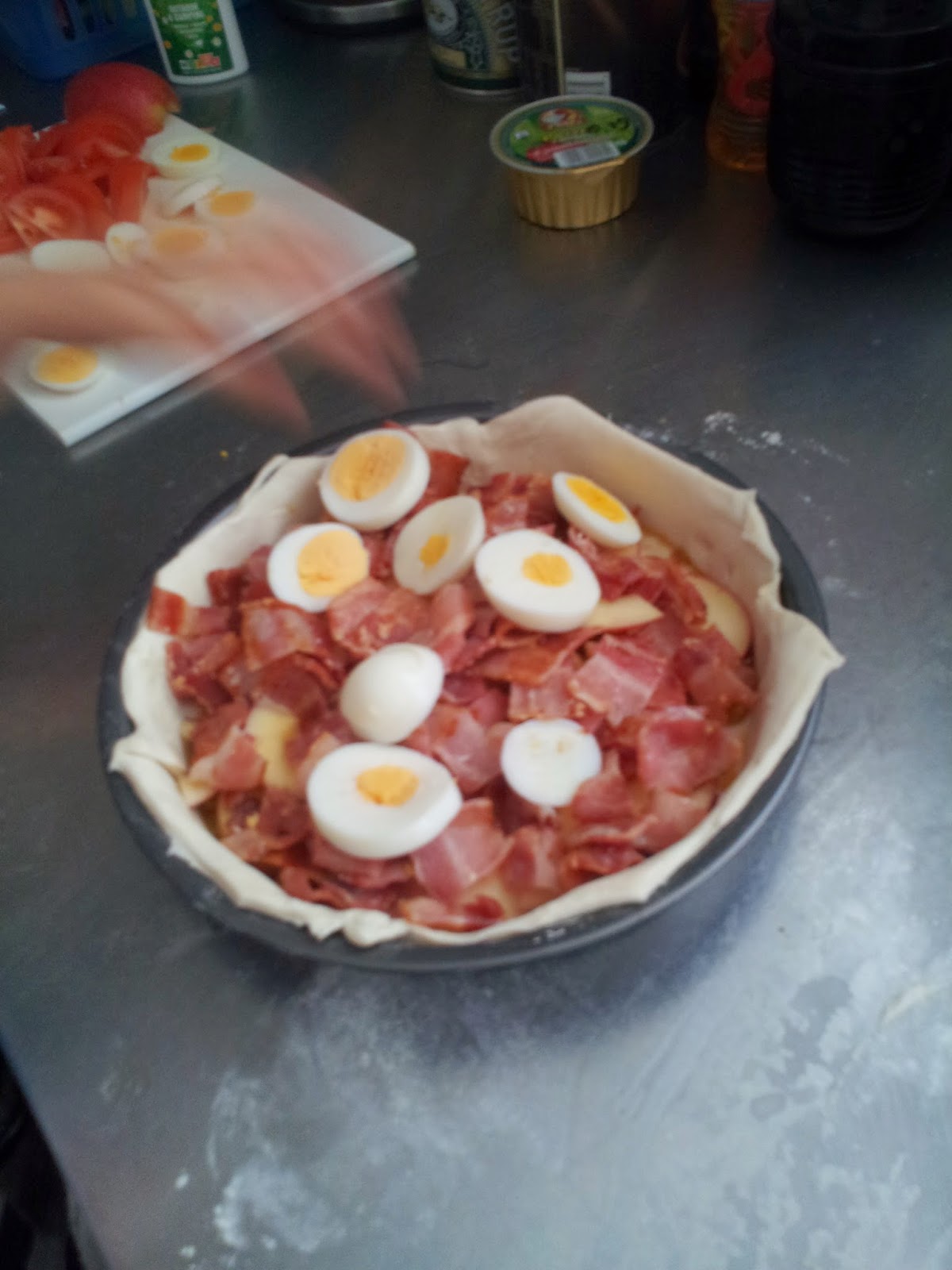 Egg - check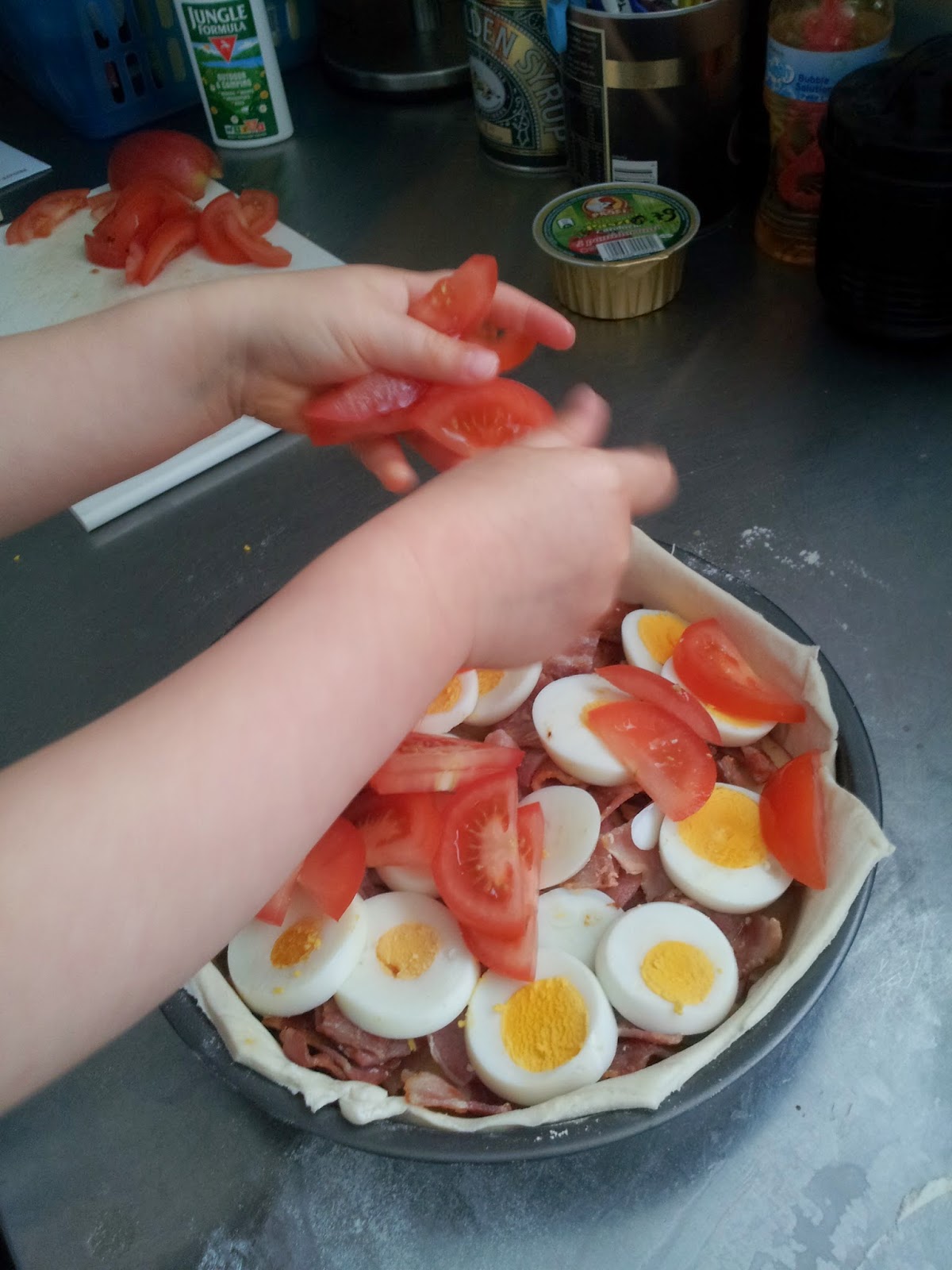 Tomato - check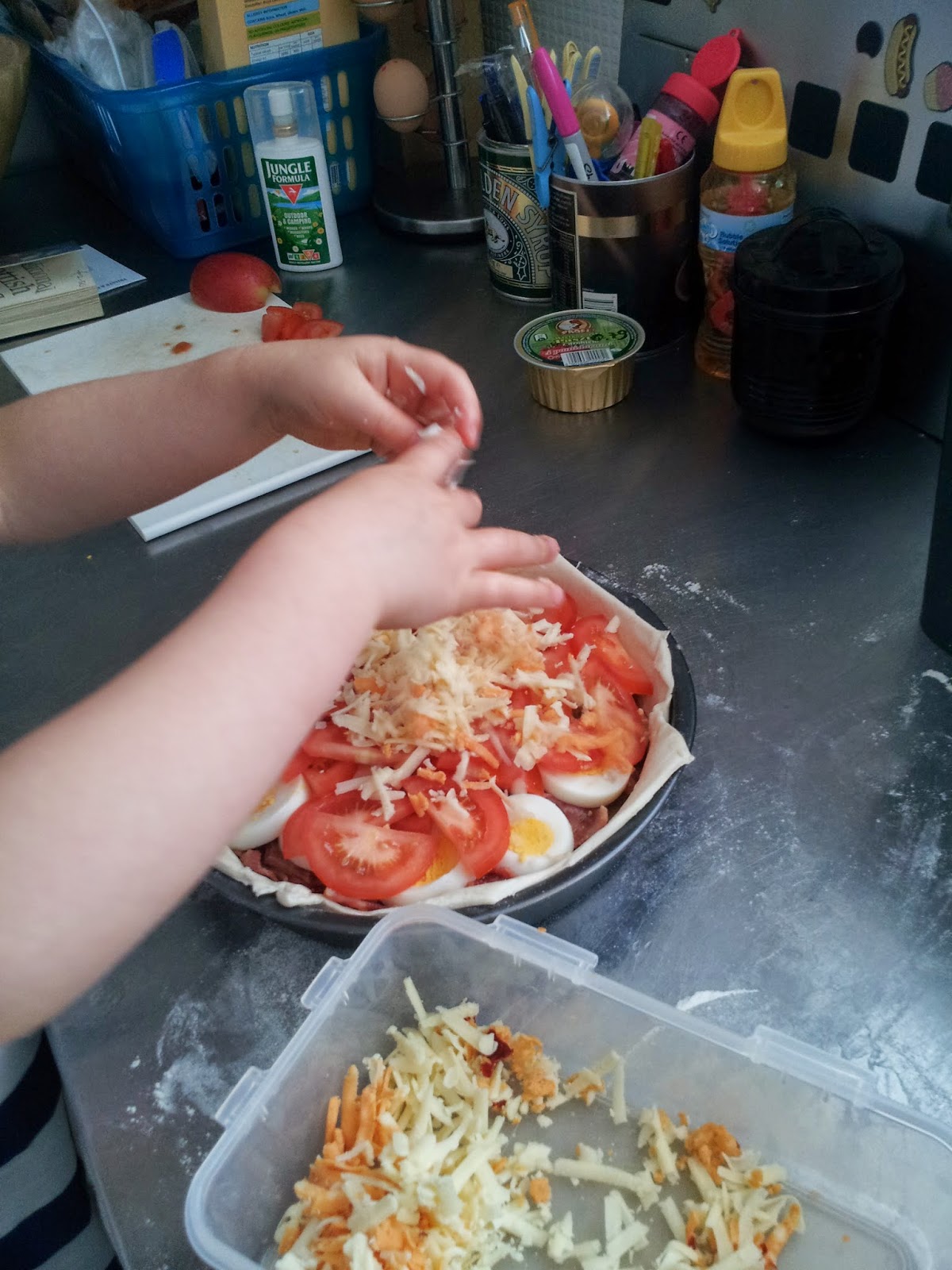 Cheese - check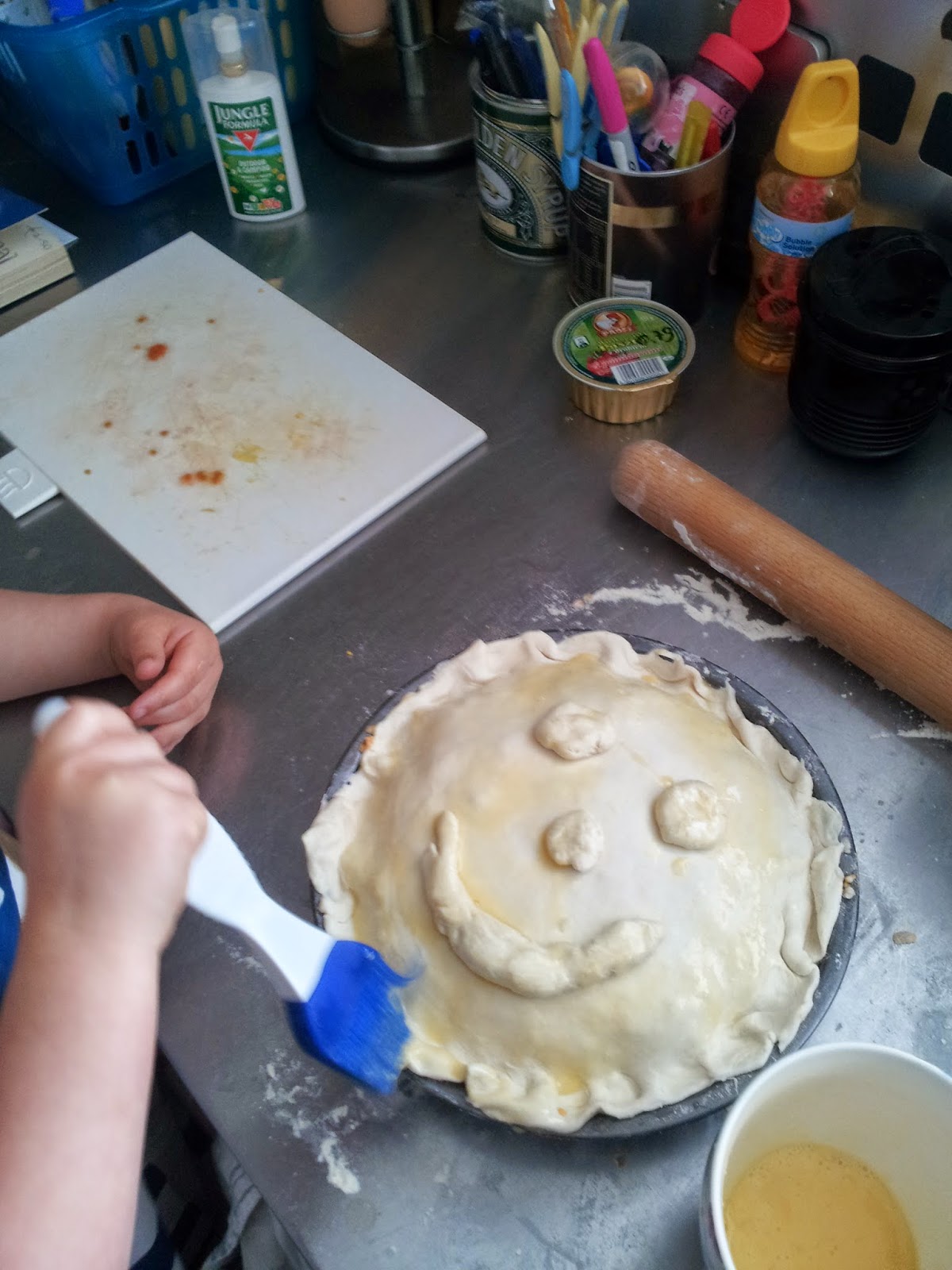 Finished off with a good dose of egg wash.

Mini-M has requested we make one for ourselves soon - minus the cheese. We'll see how that turns out - I can't help feeling it is probably critical to sticking it all together when you slice it!

I really will have to do better next month with my time management…