Gingerbread Tablet - tastes like Christmas!
What does one do when faced with a full and unopened carton of single cream, and real butter in the fridge needing used up, when still unable to eat dairy?





Turn it into a big batch of gingerbread tablet, of course, and share it with family, friends and colleagues!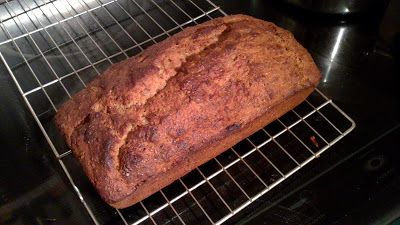 I can't tell you what it tastes like - but I can tell you that it went down very well with all who tasted it. In fact my brother, a self titled 'Tablet Connoisseur' decreed it really good - high praise indeed - and happily headed off home with a small stash of his own to see him through some very un-festive exam revision.

So here's my recipe

Gingerbread Tablet (makes 1 large tray)


100g dark brown muscovado sugar
900g granulated sugar
100g butter
284ml carton of single cream
150ml semi skimmed milk
50g crunchy gingerbread biscuits
1/2 tsp vanilla extract

Put the butter, sugars, milk and cream and vanilla into a large heavy based saucepan. Put it on a really really low heat, and leave it until it has all dissolved - this can sometimes take as much as an hour. Dissolving over a low heat is key - if the heat is too high, the mixture will start to boil before all the sugar crystals have dissolved, and the resulting tablet will be grainy in texture. Still delicious, but not velvety smooth.
In the meantime, butter a baking tin - mine was a 9x13 inch swiss roll tin. Don't use margarine or oil or spray, otherwise it will make your tablet taste funny. A thin, even coating of real butter is best.
Crush your gingerbread finely. I think there's a massive therapeutic value in pummelling the living daylights out of some defenceless biscuits with the end of a rolling pin!
Once the sugar has completely dissolved, turn the heat up and bring the mixture to a vigorous boil - stirring carefully because it does tend to splash a bit, and boiling sugar to the eye is not something anyone needs to experience.
Continue to boil hard until it reaches the soft ball stage (115C according to my sugar thermometer). It's not that I don't trust my thermometer, just that, well, OK I don't trust my thermometer, so prefer to check that it's ready by dropping a small amount of the mixture straight from the pan into a cup of cold water. If you can roll it into a ball that holds its shape under water, but loses it a bit out of water, then that's you done.
Take it off the heat, set on a heatproof worksurface, roll up your sleeves and beat it hard with a wooden spoon until starts to thicken. You will notice the consistency suddenly start to change, at which point throw in the gingerbread crumbs, give it one last stir and very quickly tip it into your prepared tin. This stuff sets fast! There is nothing more upsetting than it setting in the pan, particularly if it's going to be a gift. Although it will still taste delicious, a tub of unceremoniously-hacked-out-of-the-pan-with-a-knife tablet chunks and crumbs doesn't have quite the same elegance and visual appeal and neatly cut squares!
Once it has set to the touch, mark into squares with a sharp knife then allow to cool to completely stone cold before turning out of the tin and cutting.