Today I baked, and I'm feeling rather proud of the result, which is why it's jumping the posting queue and making its appearance tonight, rather than languishing indeterminably in my 'unblogged food' folder as happens more often than not!

As I type I can hear a variety of hissing sounds from the kitchen, and I'm trying not to envisage our kitchen blowing up, since Mr E is trying out the new pressure cooker. Hopefully I'll at least get to the end of the post!

So back to the baking... this is indeed identity crisis bread. It's wholemeal bread that really really wants to be cake. And before anyone gets excited, it is most definitely not healthy. Nothing with icing on it is in my book! However... if you eat it instead of cake, it is arguably marginally better. If you eat it instead of bread it most definitely isn't!

Whilst it may be catchy moniker, Identity Crisis Bread is fairly unhelpful in the description stakes, so let's call it Wholemeal Almond Blueberry Pull Apart Bread. It's wholemeal bread, layered with cinnamon, sugar almond and blueberries, baked and drizzled with almond icing.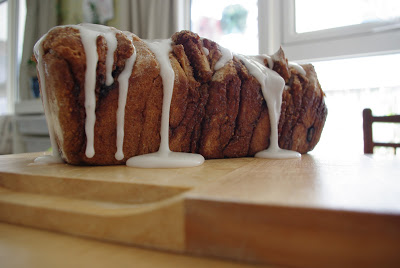 Icing puddles!

Before we get to the recipe bit, I should credit my inspiration - Peach Cinnamon & Brown Butter Pull-Apart Bread by The Craving Chronicles. And also provide a pressure cooker update - apparently the soup is now made and I can imagining worst case scenarios - Mr E, the pressure cooker and the kitchen are all unscathed - phew!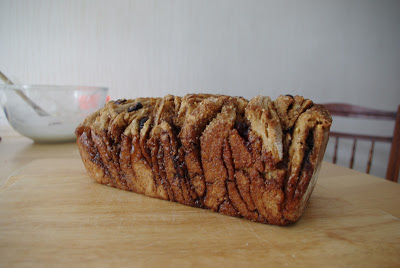 Un-iced layers indicating pull-apartness

Wholemeal Almond Blueberry Pull Apart Bread (Makes 1 loaf)
For the Dough


2 and 3/4 cups wholemeal multi seed strong bread flour
around 1/4 cup plain white flour
1/4 cup demerara sugar
2 and 1/4 tsp dry active yeast
4 tbsp soya margarine
1/3 cup almond milk
1/4 cup water
1 tsp vanilla
2 eggs

For the Filling


150g blueberries
1/2 cup dark muscovado sugar
2 tbsp ground almonds
2 tsp ground cinnamon
2 tbsp soya margarine

For the Icing


1 cup icing sugar
5 tbsp almond milk
Few drops almond extract
Higgeldy piggeldy sugar crusted loveliness

Firstly, get the dough started - mix together the flour, sugar and yeast.
Melt the margarine and almond milk together in the microwave until just melted, then add the water, eggs and vanilla and beat until combined.
Add the wet ingredients to the dry and mix until well combined.
The rough will be quite sticky at this point.
Add 1tbsp of the plain flour and mix again.
Repeat until the dough pulls away from the sides of the bowl.
Tip out onto a floured work surface and knead for a couple of minutes, then form into a ball and put into an oiled bowl.
Cover, and leave somewhere warm for about an hour, until the dough has roughly doubled in size.
Once risen, knock back, cover and leave for another 5 mins whilst preparing the filling.
Melt the soya margarine.
In a separate bowl, mix together the dark muscovado sugar, almonds and cinnamon - don't worry about sieving the sugar - the lumps will melt when baking - just mash it up a bit with a fork!
Grease a 9" loaf tin.
Flour the worktop again and roll the dough out into a large rectangle, approx 12*24".
Brush with the melted margarine then sprinkle all over with the sugar and almond mixture.
Taking a sharp knife or pizza cutter, cut the dough into 6 equal strips.
Scatter 1/5 of the blueberries over one strip.
Carefully pick up another strip and place it on top (don't turn it over - the sugar side should be up)
Scatter another 1/5 of the blueberries on the new top strip and repeat until you've used all the strips and all the blueberries.
Cut into squares/rectangles approx the width of your tin, and stuff them in vertically.
Cover with a clean tea towel and leave somewhere warm again to rise for about 40 mins.
Preheat the oven to 180C (165C fan).
Bake for about 45 mins, covering with foil after 20 mins or so, to stop it browning too much on top.
Remove from oven, cool in tin for 5 mins, then carefully turn out onto a wire rack or serving board / plate.
Beat together the icing sugar, almond milk and almond extract for the icing - it should be runny but pretty thick.
Spoon over the still-warm bread and allow to set before eating.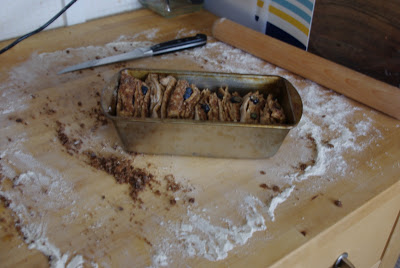 It is admittedly a fairly messy loaf to make!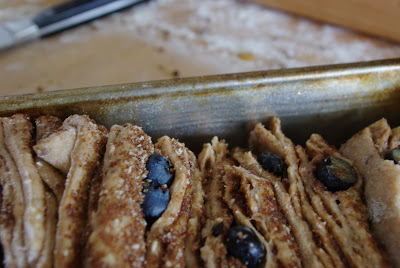 Peepo blueberries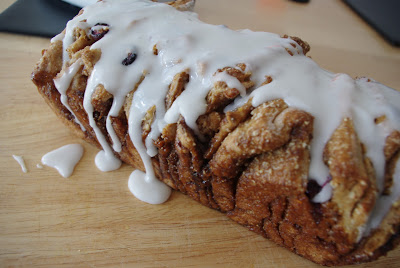 Warm melting icing


And of course, it's dairy free - Enjoy!