The Daring Cooks' September 2012 Challenge: Paella
The conversation in our house on Thursday evening went like this...
Me "What day is it today?"
Mr E "Thursday"
Me "Okay, but what date?"
Mr E "?......"
Me "It's OK, I'll look it up on the computer - phew the 13th. That means I'm not late for posting my Daring Cooks' paella"
Cue an evening of NOT writing the post, because it's OK, I could do it the next night.
Yet somehow, it's now the 16th, and I'm posting my paella more than a little bit late!

Our Daring Cooks' September 2021 hostess was Inma of la Galletika. Inma brought us a taste of Spain and challenged us to make our very own delicious Paella!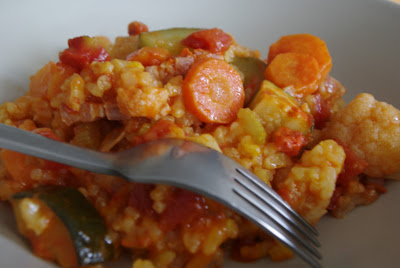 Picturesque (?!) Paella

She has provided some fantastic recipes and instructions on her website, so I'm not going to repeat it here, in my own less eloquent fashion!

I'm really not a big fan of seafood, so I followed the veggie paella recipe, using up the goodies from our weekly veg box from East Coast Organics - carrot, courgette and cauliflower.

It took all my willpower not to keep stirring it, but on the exhortation of the recipe, which was reinforced by the shop assistant in the ever-bountiful Real Foods shop where I bought my rice and saffron, I exercised restraint and willpower and avoided the potential pitfall of making paella flavoured risotto, which would be a very easy trap to fall into.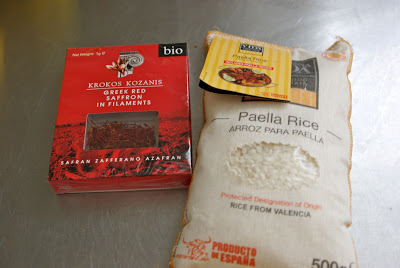 Greek red saffron and paella rice from Real Foods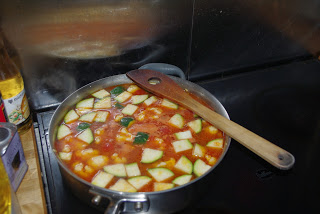 Add the rice... stop stirring... leave the room if necessary!

This was lovely - we all enjoyed it, including Mini-M. I particularly loved the fact that the rice was cooked, but the veg weren't overdone. I'd never cooked with saffron before, but had a little culinary splurge, and not have a packet of Greek red saffron for future experimentation. It added a lovely flavour.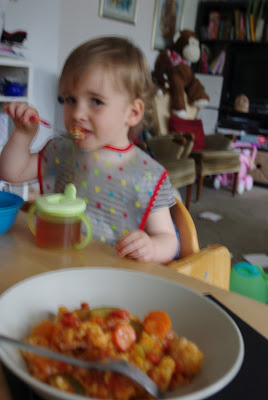 Fussy toddler approved!

The real proof of the pudding - or in this case paella - would have been to get the verdict of my Spanish sister-in-law, but she was away on holiday, and I have to say I breathed a tiny sigh of relief - I'm not sure it would have quite been up to authentic Spanish standard!