Quick & Dirty Pumpkin Spice Chocolate Cake
Last week, Dom at Belleau Kitchen posted sophisticated and delicious looking Pumpkin Cake with Chestnut Cream and Almond Meringue Topping.

I had a tin of pumpkin puree in the cupboard, courtesy of my fantastic 30th birthday present from Mr E, (which will be the subject of another yet-to-be-written blog post), and as usual cake wasn't far from my mind, but without quite the time required to create a nutty, pumkinny, merninguey masterpiece. (Yes, yes, I know that they're not really adjectives... but I'm using them anyway!).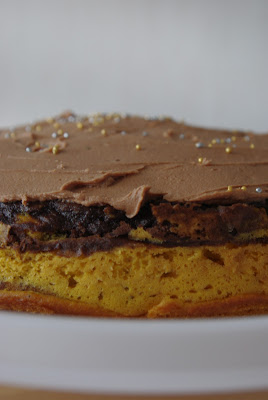 So at the opposite end of the sophistication spectrum, here is my pumpkin cake offering... baking purists look away now!

Quick and Dirty Pumpkin Spice Chocolate Cake (serves 10)


1 box of marble cake mix - making it both quick and dirty!
1 400g tin of solid pack pumpkin puree (unsweetened)
1 tsp ground cinnamon
1 egg
Ignore the instructions on the cake box.
Preheat the oven to 180C (160C fan).
Grease and base line a 9" round cake tin.
Instead of adding the oil, water and eggs as specified on the cake box, add 1 egg, the pumpkin puree and cinnamon and beat until well combined.
Put most of the mix into the tin, keeping back about 1/2 a cup of the mixture, then adding the chocolate flavouring and a tbsp of water.
If you can't find a marble cake mix, use plain vanilla, and add 2 tbsp cocoa powder and 1 tbsp water to the remaining mix.
Dollop the chocolate mixture on top and swirl around a bit, then level.
Bake for around 30 mins until cooked.
Cool in the tin for 5 mins then turn out onto a wire rack.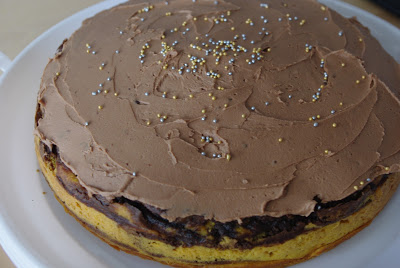 I used a box of Betty Crocker Marble Cake mix, which happens to be dairy free. I topped it with some chocolate icing, made with dairy free margarine, icing sugar and melted dark chocolate.





The pumpkin makes the cake really moist - I was surprised how nice this was, since it is primarily packet cake - it doesn't taste weird and chemical. If you want a chocolate pumpkin fix in a hurry, the I wholeheartedly recommend it!