Nothing says 'I Love You' like experimental cake!
Super fast Valentines post while Mini-M naps...
How do you say 'I Love You' to your Valentine: chocolates, flowers, perfume, champagne, candlelit dinner? Nope - obviously you say it with a heart shaped parsnip and caraway seed cake!!! It was an experimental recipe to say the least, but it looks good. And it smelled lovely whilst baking. How does it taste - no idea! I'll have to wait until my long-suffering other half comes home from work.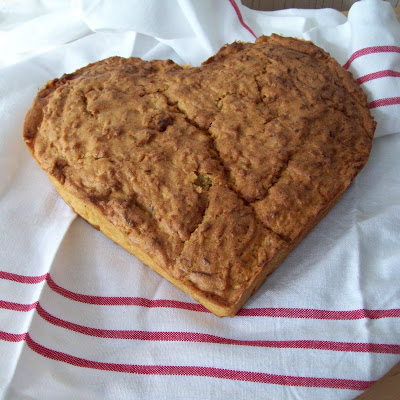 Parsnip & Caraway Cake
1 parsnip grated (approx 200g)
180g Self Raising Flour
80g Soft Brown Sugar (Light Muscovado would also work)
Zest of 1 Orange
1 tsp Caraway Seeds
120g Margarine (I used dairy free sunflower, but any would work)
1/2 tsp Bicarbonate of Soda
2 eggs
Cream Margarine and Sugar until fluffy. Beat in the eggs. Stir in the flour, orange zest, caraway seeds and bicarb. Once combined, mix in the grated parsnip. Pour into a greased 20cm (8in) cake tin. Bake for about 25 mins at 170C. (I have a rather feisty fan oven, so for a less ferocious one, you might want to up the temp to 180C). Cool in tin for 5 mins before turning out.
This makes quite a stiff mix, and bakes with a crunchy top - not like a regular sponge cake. If I make it again (all dependent on how it tastes...) I would add in the juice of the orange as well as the zest to loosen it up a bit.