It's hard to believe that this is my last daily photo roundup post. I've gone a whole year taking a picture every day, and looking back, I think I've managed it on about 355/365 days. I make that a 97% success rate, which I'm pretty sure is better than I've ever done on any exam!

It's been really fun and interesting to do - the camera has become part of my day to day handbag equipment (along with a squashed cereal bar, quite a lot of crumbs, some stale chewing gum, a ponytail band despite having very short hair - you know - the essentials!). Mini-M now picks it up, and says 'cheese' (which admittedly sounds more like 'chszzzz' with no vowels at all), when she wants her picture taken. I've created a 1 year old photo diva!

It's also my 200th blog post! Since starting in January 2009, it took me 30 months until July 2011 to reach 100 posts, then 6 months to notch up my second century. I'm feeling quite proud of my little blog!

Anyway, Mr E is going to be taking over the daily photo mantle, and I guess we'll soon discover how, when and where the pictures are going to be posted!

But until then, for the final time, here are last week's photos...

Saturday 24th December
Christmas Eve finished with a quiet game of Scrabble after a lovely family gathering over the Forth in Fife. Mini-M slept, and Mr E and I put our feet up and pondered double word scores, triple letter scores and whether or not any words contained no vowels...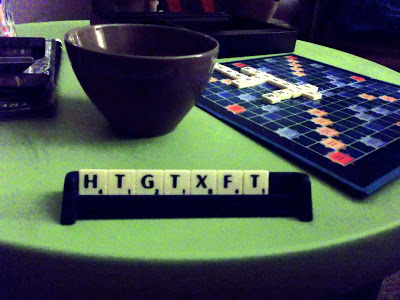 Sunday 25th December
We went to the zoo on Christmas Day. The penguins were the highlight. Mini-M has been working on her penguin wiggle, and it was performed at many times throughout the day!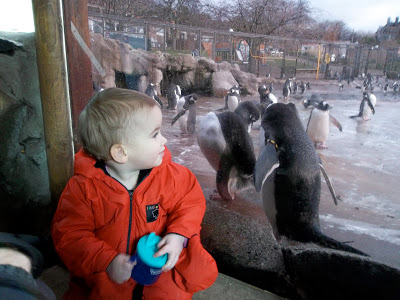 Monday 26th December
Boxing Day saw us head to Granny and Grandad E's, where Mini-M continued the penguin theme by wearing her penguin jumper around her waist and waddling around the kitchen, with a cushion.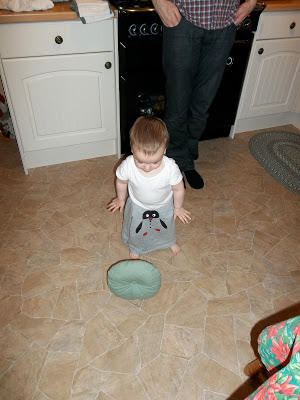 Tuesday 27th December
A trip to Harestanes for some fresh air and see-sawing got everyone out of the house.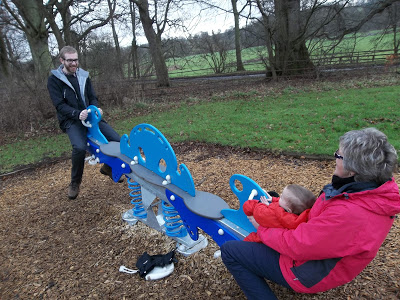 Wednesday 28th December
In a rain-free gap there was some technical swing construction...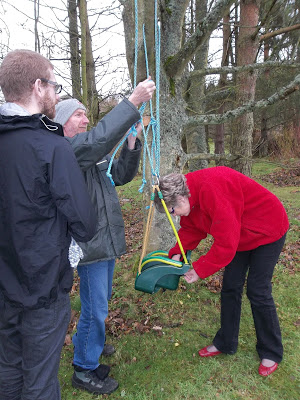 Thursday 29th December
Indulging in some holiday reading...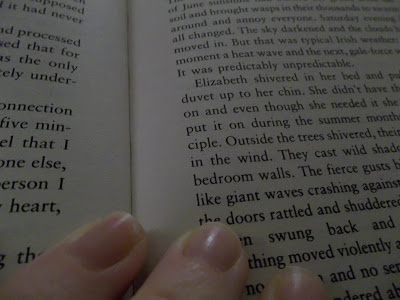 Friday 30th December
I couldn't let my folks escape without featuring in a photo - so here they are waving us off on our way back to Edinburgh - Granny and Grandad N




Saturday 31st December
Happy Hogmanay chaos earlier this evening, when some lovely friends threw open their home to a horde of rampaging tots! There was laughter, there were tears, and someone took their trousers off - sounds just like student days again...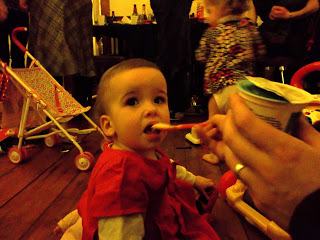 I hope you've enjoyed my ramblings, and a little insight into my view of our world. I'm not leaving blog-land behind - I'll still be updating Makey-Cakey regularly with crafts, cakes and I daresay a fair few photos of Mini-M may sneak in there too, just with a little less structure!

And finally of course, Happy New Year! I hope 2012 brings health and happiness to you and yours, where you are. Rx