The Pink Whisk November Challenge: Traybake-tastic!
Traybakes are fantastic. They remind me of being a kid - mars bar crispie slice, mint crunch, flapjacks and other such delights were classic birthday party fare.

But you can bake a whole lot of exciting things in traybake form, and they can get very naughty, decadent, chocolaty, and delicious too!

For the Pink Whisk November Baking challenge, I made two traybakes - one from each of my mental sub-categories. Peanut Butter Marshmallow Rice Crispie Slice from the first category, and Mint Chocolate Marshmallow Brownies from the second. I made them both dairy free, one by following an existing recipe to the letter (a very unusual occurrence!) and the other by doing a whole lot of tweaking and de-dairyfying.

I took them away to a weekend catch up with some uni friends, where we had rented a cottage owned by the National Trust on the stunning Cragside Estate in Northumberland, and we spent the weekend pretending we lived in a country house, eating cake and partaking in a gin or two. Fantastic fun! Given that out of two entire trays of traybake, only three squares remained at the end, I think these got the thumbs up!

Peanut Butter Marshmallow Rice Crispie Slice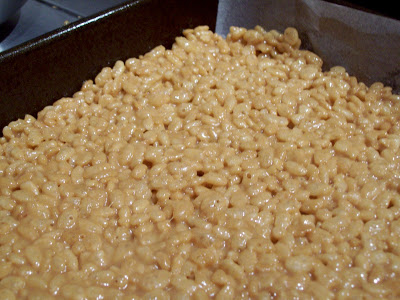 No ordinary rice crispie slice!

I made this following the recipe on

Wayfaring Chocolate

, and it works perfectly. Whilst reading her blog post, I also enlightened myself as to what Nuttelex and Natto are. For anyone clicking through, and sharing in my puzzlement, Nuttelex is an Australian soya and dairy free margarine, that comes in sunflower, and olive varieties. Natto is a fermented soya bean paste that seems to do weird stringy spider webby things - a little like melted marshmallows, hence the reference, but similar only in texture! (It sounds fairly icky to my palate, and definitely in no way whatsoever a Marshmallow substitute. Let's just make that bit crystal clear! I don't want to be responsible for any disgusting peanut butter rice crispie Natto slice concoctions!!!!)


Mint Chocolate Marshmallow Brownies
Makes 1x 9x13 inch tray


100g dark, dairy free mint chocolate (mine was a bar of mint soya chocolate)
100g plain dark chocolate
1/2 cup plus 1 tbsp dairy free margarine (sunflower in my case)
1 cup plain flour
3 tbsp self raising flour
1/2 tsp baking powder
A pinch of salt
4 eggs
2 cups of demerara sugar
150g Marshmallows

Preheat the oven to 180C (170C fan) and grease a 9x13inch tray bake tin.
Next, cut each marshmallow into two or three with a pair of kitchen scissors (or use mini-marshmallows!) then scatter them over a tray, and stick in the freezer whilst you get on with preparing the rest of the recipe.
Break the chocolate into pieces and put in a medium saucepan along with the margarine, over a low heat, stirring frequently so that it doesn't burn onto the bottom. You could also do this in the microwave if you prefer. Leave to cool for about five minutes.
Whilst you're doing that, in a large bowl beat together the eggs and sugar, then also let them sit for 5 minutes to allow the sugar to dissolve a little.
Mix the cooled chocolate mixture into the eggs and sugar and stir well until combined.
Sieve both flours, baking powder and salt on top of the wet ingredients and mix well.
Pour half of the mixture into the tin, then take the marshmallows, which should now be frozen, out of the freezer and sprinkle evenly over the batter, then quickly top with the other half of the mixture so that the marshmallows are mainly covered.
Bake in the middle of the oven for about 25-30 mins.
Cool in the tin completely before cutting and carefully lifting the slices out.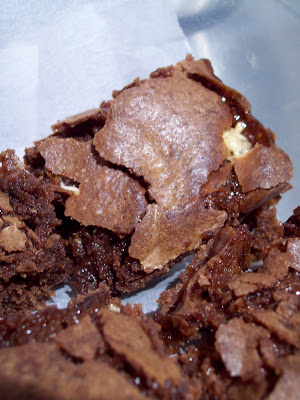 Sticky, chewy, chocolaty, crunchy and gooey - everything brownies should be!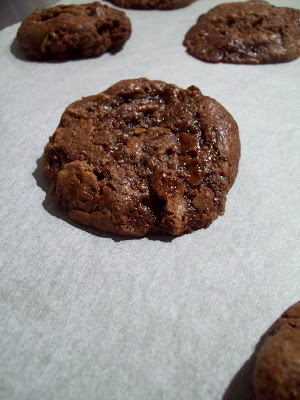 Twice baked Brownie cookies = extra chewy deliciousness

These were both fantastic traybakes. The marshmallows made the brownies chewy and sticky, and the mint added a nice subtle background flavour. I didn't bake mine for quite long enough, as I had to go out and took them out a few minutes sooner than I'd have liked. That meant that the middle section of the tray was just a bit too gooey to cut - but not to worry - once it was cool I scooped it out and rolled it into balls, then baked them for another 10 minutes, making fantastic chewy brownie cookies.

The peanut butter in the rice crispie slice balanced out the sweetness of the marshmallows very well, and made it very moreish - be warned!

And the general consensus was that these most definitely did not taste dairy-free - win!