Radom Recipes does No Croutons Required
Since I'm not quite nodding off on the sofa yet, I'm going for some more Friday evening blogging.
This month's Random Recipes challenge was a joint venture.
Dom at Belleau Kitchen teamed up with Jac at Tinned Tomatoes to bring the blogosphere Random Recipes does No Croutons Required. Cheers peeps - it was a lovely challenge!

To satisfy the 'No Croutons Required' bit, the recipe had to be for a vegetarian soup.
To satisfy the 'Random Recipes' bit, it had to be - well, you know - random. No surprises there!

I have three confessions to make before I get onto the soup.
Firstly, I very un-randomly chose the 'The Soup Bible' as my book, mainly to save me randomly picking baking book after cake decorating book, which are somewhat lacking in the soup sections.
Secondly, I rejected my first random soup recipe! Shocking I know. It was chosen my Mini-M who decided to open the book and stand on the page for Roasted Red Pepper Soup. My book will automatically open at that page now for evermore. I a) don't like roasted peppers, b) didn't have any peppers in the fridge and c) didn't like going out to buy an ingredient to turn into soup I knew I wouldn't like. So I got Mr E to chose me one instead - I flicked through the pages and he shouted stop. He chose me Lentil and Pasta Soup, which I miraculously also had most of the ingredients for - good choosing Mr E!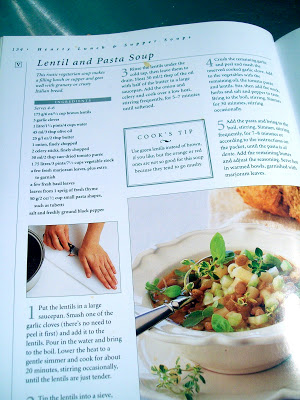 Thirdly, I definitely took the role of 'executive chef' in making this soup. In fact, my brother made it, under my instructions. He very kindly came round to help entertain Mini-M so I could get some things done the other day. Just that by the time he arrived, Mini-M had decided it was nap time. So instead, he made this soup, whilst I freestyled it and made parsnip, lentil, apricot and beef baby mash.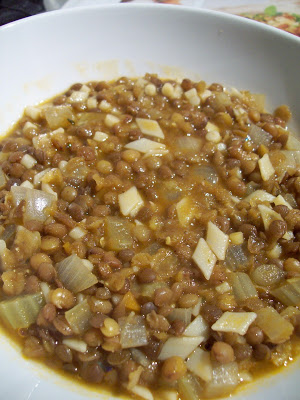 We changed the ingredients and recipe ever so slightly - the original called for marjoram and basil, which I didn't have. And sun dried tomato puree - which is a bit posh for my fridge, so we went with common or garden un-sun-dried tomato puree. It was supposed to have butter in it - so we missed it out. And the garlic that we have at the moment is pretty feisty, so we only used one clove, especially since the stock I used was made with home made stock paste, which is quite garlic-tastic.

Lentil and Pasta soup, a la me and Mr P!
(Serves 4-6)


175g dried brown lentils
1 garlic clove
3 tbsp olive oil
1 onion, finely chopped
2 celery sticks, finely chopped
2 tbsp tomato puree
1.75 litres vegetable stock (chicken would also taste nice, if you're not veggie, and had some to hand)
Leaves from 1 sprig fresh thyme
50g small soup pasta shapes
Salt and pepper to taste

Put the lentils in a large pan.
Peel the garlic clove, then squish it under a large knife with the palm of your hand and add it to the lentils.
Pour over enough water to cover by an inch or so.
Bring to the boil, then reduce the heat to a simmer and cook for about 20 mins until the lentils start to become tender, but still have a bit of bite to them.
Drain the lentils into a sieve, pick out the garlic clove and set aside, then drain the lentils under the cold top to stop them sticking together.
Heat the oil in the bottom of the pan you cooked the lentils in, add the onion and celery, and cook on low for about five minutes until softened but not browned.
Crush or mash the reserved garlic clove, and add it to the onion and celery along with the tomato puree and lentils. Add the stock, thyme and a generous pinch of salt and pepper.
Bring back to the boil and simmer for about 25 minutes, then add the soup pasta and boil for another 10 minutes until the pasta is cooked.

As you can see, this made a very thick soup - to be honest, calling it soup is kind. It is most definitely stew. You could have eaten it with a fork without much difficulty. It was tasty, and hearty and wholesome - with that amount of lentils and pasta it's always going to be a gutsy soup, but I'd recommend upping the stock quotient to 2 litres, to make sure it is just a little bit more liquid! Unless you don't have any spoons, in which case go with the above!




Thanks Mr P (and Dom and Jac for another inspired challenge :o))