A quick recipe post, to share a surprising recent flapjack success.
I picked up 'The Mornflake Oat Cuisine' recipe book in a discount bookshop for 99p, because mainly I felt sorry for it. A bad habit of mine - pitying books being sold in low-class establishments has led to a surprising number of equally surprising titles appearing on our bookshelves, or being given as gifts.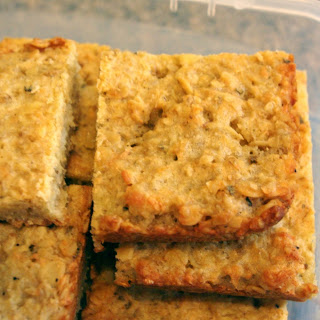 Flicking through it, I saw a recipe for cheese flapjacks, and my initial reactions was 'eurgh'. However the idea stuck in my mind, and so a couple of weeks ago I decided to give the recipe a shot, and the results were surprisingly very very good.
I made these with goats cheese and goats yoghurt so that I could eat them - but I imagine they would be equally nice, if not nicer with cows milk and 'real' cheese. After eating them, I think they would be an excellent toddler snack - the yogurt and cheese pack in lots of calcium, the oats lots of slow release energy, no sugar and portable. Sadly not for Mini-M just yet - she's still a dairy free baby.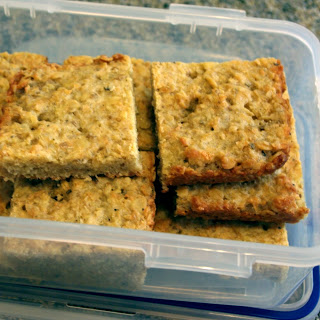 Savoury Cheese Flapjacks (makes 16)
225g rolled oats
100g grated cheese - I used hard goats cheese
75g margarine - I used soya
150ml yoghurt - I used goats yoghurt
1 egg, beaten
A pinch of black pepper
Preheat oven to 180C (170 fan oven/ 350F/ Gas 4).
Grease a 23cm/9in cake tin (I used sunflower spray)
Mix the oats and grated cheese in a large bowl.
Melt the margarine (microwave or pan is fine), then stir it into the oats and cheese, along with the yoghurt, egg and black pepper.
Tip into the prepared tin and spread evenly into the corners.
Bake for 25-30mins until golden brown.
Remove from the oven and cut into slices, the leave to cool in the tin.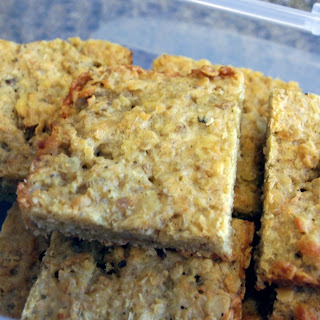 We ate some dunked in lettuce, potato and pea soup, and it was great! Very easy to make, and they kept very well for a week, but which point they were all gone...