Seasonal Surprise Ingredient Swap: Fig, Almond, Lemon and Olive Oil Cake
It's been a little quiet on the blogging front lately, as a combination of a slightly more hectic few weeks than usual plus generally feeling slightly yucky during a dairy reintroduction trial has meant that I seem to have lacked either the time of motivation most evenings. But tonight I've got a little bit of both.

So without further ado, I should get on with the blog posting!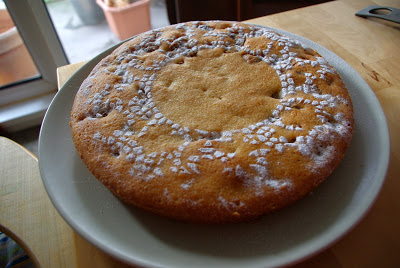 Baked at the weekend so photographed in daylight - a commodity in short supply!

This is my submission into the Seasonal Surprise Ingredient Swap which I organised. A roundup of all the delicious creations will go up here on the 1st December.

My swap partner was What's for Dessert who sent me a lovely package of dried figs all the way from Croatia. Thanks to the postal service (no doubt of several countries) they arrived safely after their international assignment, and I began to think about what to make.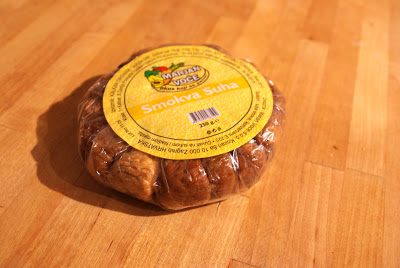 A wheel of tightly packed dried figs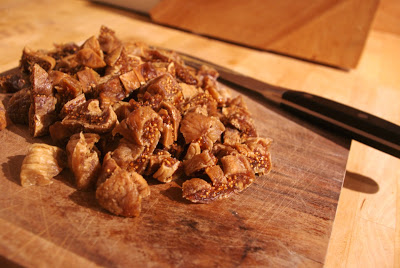 Chopped and ready to be caked up

In the end, I made a Fig, Almond, Lemon & Olive Oil cake inspired by this recipe for Lemon-Fig Pie at Le Monde do Mademoiselle Natali (scroll down the page for the English recipe). I made some substitutions to make it dairy free, and added the almonds, so here's my adapted version.

Fig, Almond, Lemon & Olive Oil Cake (Makes a 9" cake)


1 cup plain flour
1/2 cup ground almonds
250g dried figs
1 egg
1/2 cup sugar
1/2 cup mild olive oil
1/2 cup almond milk
zest of 1 lemon
1 tsp lemon extract
1/2 tsp baking powder
pinch of salt

Grease a 9 inch cake tin and preheat the oven to 180C (160C fan).
Chop the figs into coarse chunks.
Sift the flour into a large mixing bowl, then stir in the sugar, ground almonds, salt, baking powder and lemon zest.
Beat the eggs in a jug, then add the oil, milk, lemon extract and mix.
Add the wet ingredients to the dry and mix gently until combined.
Add the chopped figs and stir them in until evenly distributed.
Pour the mixture into the prepared tin and bake for around 30 mins until golden and springs back when touched in the centre.
Allow to cool in the tin for 5 mins, then turn out onto a wire rack until cold.
Dredge with icing sugar to serve.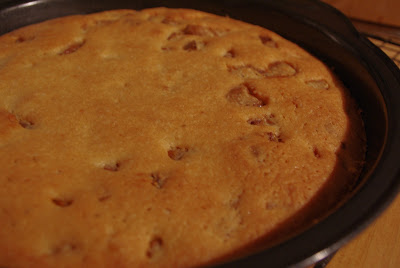 Just out of the oven and unadorned
The bottom of the cake - despite the figgy bits it still popped out of the tin

As a little aside... When I was a kid growing up, I used to love reading my Mum's cookbooks. One that sticks in my memory in particularly was called 'Home Baking' (or some similarly catch title) anyway, in it there was a picture of a chocolate cake that had been dusted with icing sugar over a doily to create a mosaic texture. I always wanted to make cake that looked like that. I'm not entirely sure why I never made this known, since I'm sure that at some point during my childhood, there would have been some doilies lurking in the kitchen drawer, and a fair likelihood that their passing presence in the kitchen may have coincided with cake baking. However, I don't ever remember making doily-pattern icing sugar, somehow saving for something I could do when I was a grown up. Well now I am, and sometimes I do!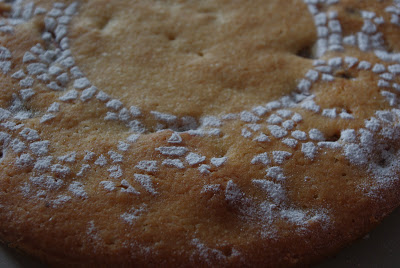 1970s doily chic

This cake is lovely - the moistness of the almonds, the crunch and sweetness of the figs and a light lemony tang. The olive oil I used, although labelled 'light and mild' does have a reasonably pronounced flavour which comes through a little and I like the way it cuts the sweetness, however if you prefer your cake 100% sweet, then make sure you use very mild olive oil (or even another flavourless oil).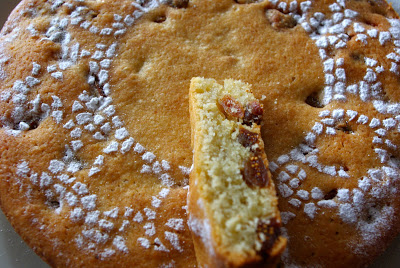 Wouldn't win any WI prizes with all the fruit sunk to the bottom :o(

Thanks What's for Dessert!