Stock to Soup to Consomme: The Daring Cooks' September 2011 Challenge
Peta, of the blog Peat Eats, was our lovely hostess for the Daring Cook's September 2011 challenge, "Stock to Soup to Consomme". We were taught the meaning between the three dishes, how to make crystal clear Consomme if we chose to do so, and encouraged to share our own delicious soup recipes!





We eat a LOT of soup in our house, usually of the 'using up all the slightly bendy vegetables' variety. It's tasty, healthy, cheap, but often not particularly co-ordinated in flavours or textures. It's definitely not "recipe" soup.




This challenge made me actually follow recipes and instructions. That said I did manage to throw in a couple of freestyle soups too :o)




I'm not posting the recipes in this post as it would be too long, and I'll miss the 14th posting deadline - it's already getting late here! But over the next little while, there will be recipes appearing for the two traditional Scottish soups I made (cullen skink and scotch broth) and the beer bread and black pudding potato scones I made as accompaniments.




Right back to the challenge. I was inspired as soon as it was posted and wanted to make soup straight away - just that we had no onions, and very few veg, (the veg box was due the next day). So I made a nutty broccoli soup that was a bit lacking in flavour, but healthy nonetheless. To go with it, I made some really tasty black pudding potato scones. I've not got some more spare mash in the fridge, so I'm tempted to making something similar again this week!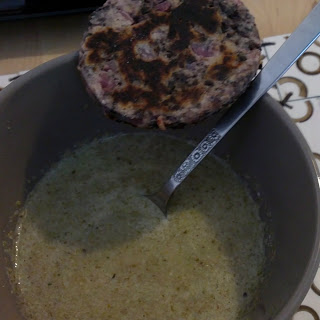 Once I was more organised, I got stuck into the challenge in earnest, and got some chicken wings to make stock. I used chicken wings, fennel, carrot and turnip, bay leaves and thyme. I strained it and kept a portion aside to try the gelatine freezer consomme, and left the rest to cool. It set nicely jellyish, and the next day, I used it to make a summer "minestrone" with chicken (picked from the stock wings) fresh peas, carrots, small turnips (not the mushy stock ones, although we did use them to make some awesome stovies), tomato paste, soup pasta, red pepper and greens. It was delicious.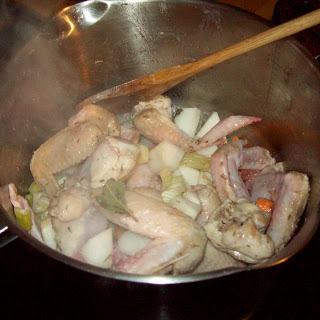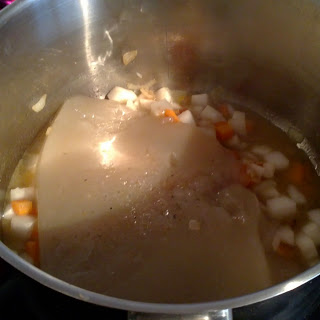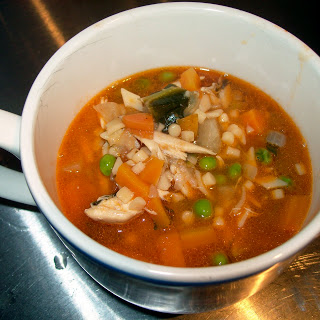 I went with the frozen gelatine filtration method for my consomme. A fantastic explanation of the process and the science behind it can be found
here on the Daring Bakers site
.
I took my frozen jellied stock out of the freezer and broke it into chunks then resisted the urge to prod it whilst it defrosted. I had to do it out of the fridge in the end, because our fridge is uber cold, and Scotland is not really very warm, so even out of the fridge it defrosted very slowly!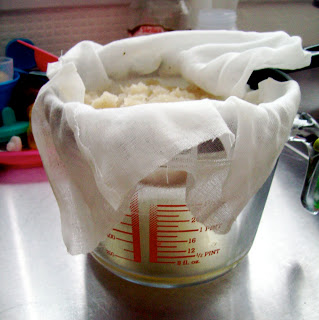 And much to my amazement, it worked. It made a lovely clear stock, that I then cooked some chili noodles in for a quick chicken noodle soup. It was a pleasantly surprisingly success.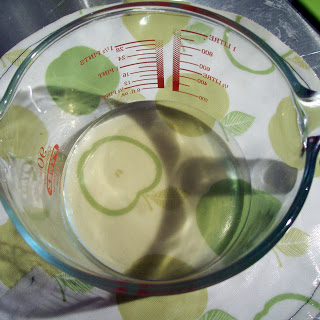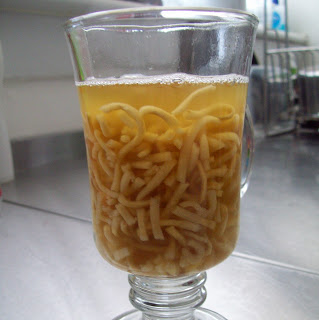 Then I decided I'd like to share some traditional Scottish soups, so I decided to make Scotch Broth - a hearty soup with barley, lamb and vegetables - and Cullen Skink - a creamy soup with smoked fish and mashed potato.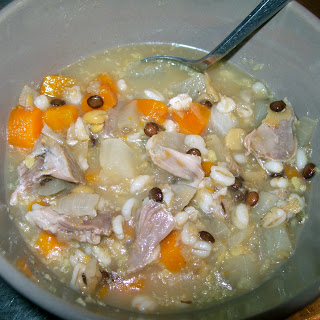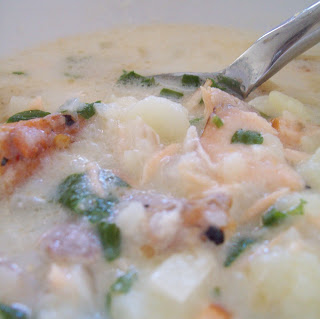 They are typically Scottish soups in that they don't require a stock to be made first - it is cooked integral to the soup, which still ends up tasting delicious and rich, but with a lower ingredient demand, and a streamlined approach.
As I said, recipes will follow, but in the meantime here are the finished bowlfuls. Both were delicious, and perfect for the disgusting weather that the tail end of Hurricane Katia was throwing at Scotland.
To go with them, I made quick 3-ingredient beer bread. Also a great hit.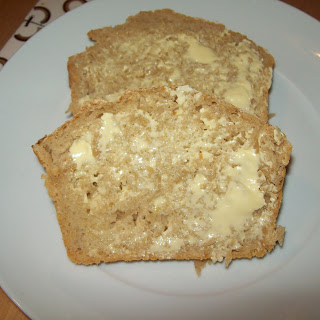 All in all, this was a pretty successful Daring Cook's challenge - and definitely one that fitted in well with my style of cooking and eating! Thanks Peta!