Strawberry Marzipan Galettes
I think that these are my current favourite culinary discovery. Which is a bit weird, since normally I don't even like marzipan! But in these, I very much do :o)
The recipe came from the
BBC Good Food Magazine
and for once I followed it fairly closely, with only a few tweaks. I'm sure there will be many future incarnations of this recipe, as it is so easy and so good - and potentially very versatile, depending on what fruit you have to hand.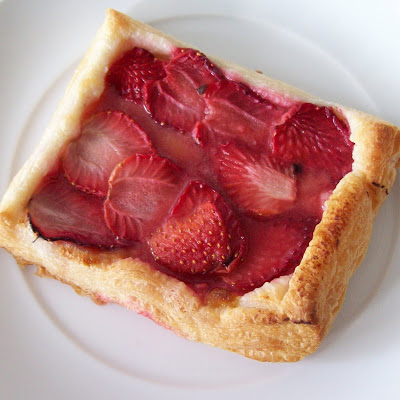 Strawberry Marzipan Galettes (makes 6)
1 pack of ready made puff pastry, thawed if frozen (250g)
approx 250g strawberries, washed, hulled, & dried
approx 200g marzipan (a bit less than half a packet)
1tbsp mild olive oil
25g sugar
Preheat oven to 200C, and get out one large or 2 small baking trays. You don't need to grease them as you're putting puff pastry on them, which generally doesn't stick.
Slice the strawberries lengthwise into fairly thin slices (a couple of mm is good).
Roll out the pastry on a floured worksurface until about 2mm thick. Try to keep it roughly rectangular in shape as you do so.
Cut the pastry into 6, and carefully transfer each piece to the waiting baking tray. With a sharp knife, run around each piece, about half a cm in from the edge, taking care not to cut all the way through. This will help the pastry puff up around the edges.
Brush the pastry lightly with the oil.
Cut the marzipan into slices not more than half a cm thick, and place a couple in the middle of each piece of pastry.
Next layer the strawberries over the pastry so that the marzipan is covered up. You can be as artistic or haphazard as you like here, it won't affect the flavour!
Finally, sprinkle over the sugar and pop into the preheated oven for about 15mins until the pastry is risen and golden.
Remove from the oven and allow to cool slightly on the tray before serving. Apparently a dollop of nice thick double cream finished it off nicely, but they also taste lovely 'neat'!