I'm writing this blog post in a state of semi-disgruntlement (is that a word? Probably not, but I think it should be.) as we seem to have lost our TV reception for all BBC channels just as the new series of The Great British Bake Off begins. And unfortunate co-incidence - or perhaps it is not a coincidence at all... I'm really hoping it doesn't mean we've also lost CBeebies - that might be rather complicated to explain to Mini-M!

But I shall distract myself by writing my Daring Cooks' August challenge post, whilst Mary, Paul and the contestants flicker and stutter in the background.

Rachael of pizzarossa was our August 2012 Daring Cook hostess and she challenged us to broaden our knowledge of cornmeal! Rachael provided us with some amazing recipes and encouraged us to hunt down other cornmeal recipes that we'd never tried before - opening our eyes to literally 100s of cuisines and 1000s of new-to-us recipes!

At the outset of this challenge I'd never cooked with cornmeal before, so I armed myself with a bag and got cooking. In the end I made four different recipes, and there's very little left in the bag!

Firstly I played it safe and baked some cornbread using this vegan recipe at Pickles & Honey. I followed it to the letter - a rarity given my usual slightly haphazard and improvisational approach to cooking - and it worked a dream. It was really delicious. Since I've never eaten cornbread before, I had no idea what to expect and no idea if this is authentic, but it was lovely! It was lightly sweet from the maple syrup, and we had it for pudding with chopped bananas, oat cream and a little drizzle of extra maple syrup. Mini-M also enjoyed it spread with 'butter' (aka dairy free margarine which she wants on everything. e.g. Mini-M: "My hungry Mummy" Me: "Is there something you would like?" Mini-M: "Butter" Me: "On toast?" Mini-M: head shaking "Butter" Me: "How about on an oatcake then?" Mini-M: "My having butter" etc Don't worry she has never actually eaten 'just butter'!)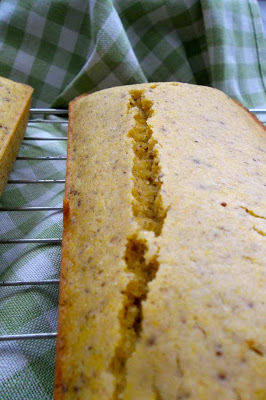 The brown flecks are form the flaxseed 'eggs'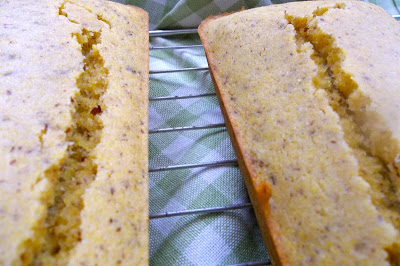 I split the mixture across two tins and froze one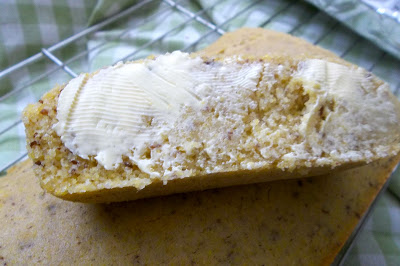 With 'butter'

Next I made some fab gluten free fruitcake. In my head, I can't help thinking of this as gluten-free pirate cake - packed with bananas, dates and rum it has flavours of both the tropics and grog! I started off making this Date, banana & rum loaf from the BBC Good Food website, but due to a) not having the right ingredients and b) not concentrating when attempting to half the quantities, I ended up far enough away from the original for me to post my version here too.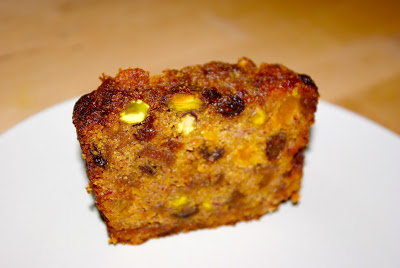 It'd help the gluten-free pirates on their way to 5 a day too!

Tropical Cornmeal Rum Cake (Makes 1 small loaf)


125g Stoned Dates
1 Smallish Banana
60g Pistachio Nuts
50g Raisins
100g Dried Pears
50g Dried Apricots
50g Medium Cornmeal
1 tsp Mixed Spice
1 tsp Baking Powder
3 tbsp Dark Rum
1 Egg beaten

Preheat the oven to 180C (160C fan) and grease a 1lb loaf tin.
Put the dates in a small saucepan with 100ml water. Bring the the boil and simmer for 5 mins.
Take off the heat, then add the banana and rum and blitz until smooth.
Chop the dried pears and apricots into approximately raisin sized pieces.
Mix all the ingredients together.
Tip into the prepared tin and level - it will be fairly full, but don't worry, it doesn't rise too much.
Bake for around 1hr until a skewer inserted comes out clean, and the top is browned and crusty.
Allow to cool completely before turning out of the tin.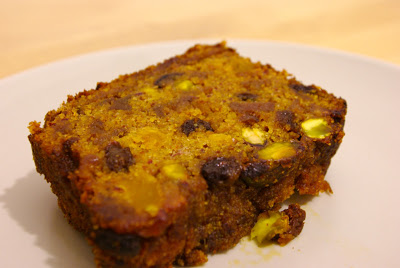 Full of pistachio apricot and raisin nuggets

I then decided to make some savoury cornmeal pancakes. Instead of using milk, I used tinned smooth spiced lentil soup. Mini-M helped me make these, and as we stirred the soup into the cornmeal she said "My mixing up sick Mummy" I have to admit at that moment she had a point, however the resemblance was only fleeting, and they cooked up well and she happily ate them!.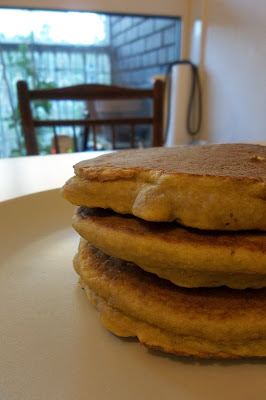 The finished result looks much more appealing than the raw batter!

Spiced Lentil and Cornmeal Pancakes (Makes 6-8)


1/2 Cup Medium Cornmeal
1 Cup Smooth Lentil Soup (I used Suma Spicy Lentil Soup)
1 heaped tsp Runny Honey
1/4 Cup Self Raising Flour plus 2tbsp
1 Egg beaten
Pinch of Salt
Sunflower Oil for frying

Firstly heat the lentil soup up.
Add the cornmeal to the hot soup and mix thoroughly.
Mix in the honey, salt and 1/4 cup flour.
Next mix in the beaten egg and add a little flour if needed to reach the correct dropping consistency.
Heat a tiny drop of oil in a nonstick pan, and once hot, add a small ladleful of batter to the pan.
Cook for 2-3 minutes on each side, and cool under a tea towel on a cooling rack.

And finally I made my fourth recipe for dinner tonight - a polenta based veggie 'pizza'. I'm using the term loosely since it's an unconventional pizza base, and since it's dairy free has no cheese. However if you're feeling cheesy then a generous grating would finish it of fantastically. It was lovely! Really fresh and zingy.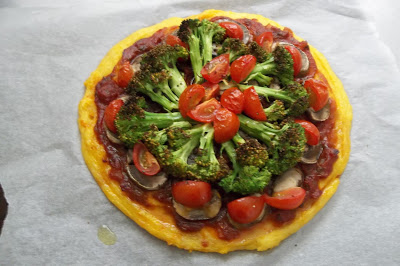 A good start at eating a rainbow

Polenta Veggie Pizza (Serves 3)


500ml Boiling Water
1 heaped tsp Marigold vegetable stock
100g Quick Cook Polenta
1 tsp Parmesan Cheese Substitute (optional - or more real parmesan!)
200g Stir Through Tomato and Basil Pasta Sauce
5 Closed Cup Mushrooms
1 Very Small Broccoli Head
6 Cherry Tomatoes
1 tbsp Olive Oil

Bring the water to the boil in a pan, add the Marigold powder and stir to dissolve.
Turn the heat down to a gentle simmer then stir with one hand whilst sprinkling in the polenta with the other to stop it clumping.
Keep stirring constantly over a low heat for 5 mins then take off the heat and stir in the "Parmesan".
Allow to sit for a minute or two.
Cover a baking sheet with parchment paper and heat the oven to 180C (170C fan)
Spread the polenta in a freeform circle on the tray, keeping it at least 1cm thick, then pop in the oven for 5 mins.
In the meantime, blanch the broccoli, slice the mushrooms and quarter the tomatoes.
Take the polenta base out and spread the tomato sauce over it, then arrange the veggies on top as artistically as you like!
Return to the oven for about 30 minutes until the broccoli is starting to look a little frazzled around the ages and the mushrooms and tomatoes are cooked.
Allow to sit for a couple of minutes before slicing to help the base stay firm enough to lift.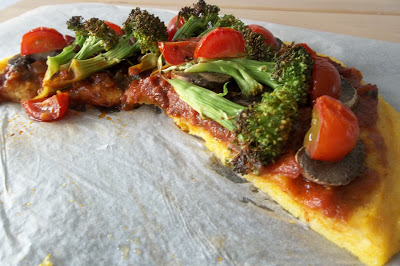 Mmm - leftovers for tomorrow!
Thanks for a fab challenge and so many new and exciting tastes on our menu this month!