Tea Time Random Recipes: Not cherry oatmeal cookies
This month's Random Recipes challenge hosted by Belleau Kitchen has teamed up with Tea Time Treats hosted by Lavender and Lovage and What Kate Baked to create a hybrid Tea Time Random Recipe challenge.

We were allowed to randomly select any recipe that seemed 'tea-timey' to us, be it sweet or savoury. I decided to go down the sweet afternoon tea route, after ending up with '500 cookies' by Philippa Vanstone from my bookcase as my randomly chosen book.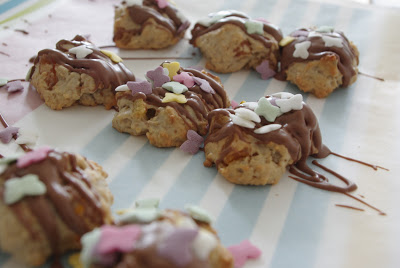 I then randomly picked a recipe, which turned out to be 'Cherry & Oatmeal Cookies' from page 201 in the Wholesome Cookies section. Since I didn't have dried cherries in the cupboard I immediately headed off piste, and what with having to adapt it to being dairy free, I'm pretty sure what I ended up with was a fairly long way away from what the original recipe would have created. But please forgive them (and me) because at least they turned out pretty!





And so to the question of what I substituted in place of the dried cherries. I'll give you 3 guesses... Raisins? No. Chocolate chips? Nope. Nuts of some sort? No, no, no. What's that you say - one more chance - OK! Candied melon? Yes!!! You're spot on.

Best not to ask really how I somehow manage to have candied melon in my baking cupboard - hint, it's got a lot to do with working far too close to one of the Edinburgh Real Food shops, and repeatedly finding myself there during lunch break wanders...



Anyway, these actually tasted really lovely. I gave the chocolate drizzled, butterfly adorned ones to a friend for their birthday, and kept some naked ones for eating at home. I think I may be a candied melon convert! On the subject of naked, Mini-M cracked us up yesterday by rolling her trouser legs up then running round exclaiming "My having naked knees!".

I digress - back to the recipe...

Candied Melon Oatmeal Cookies (makes 18-24)


45g soya margarine
50g demerera sugar
1 egg
1/2 small pot soya yogurt (I used strawberry)
1 tsp vanilla extract
100g plain flour
pinch bicarbonate of soda
pinch salt
1/2 cup oatmeal
100g candied melon chunks

Preheat the oven to 160C and line two baking sheets with greaseproof paper.
In a large bowl, beat together the soya margarine and demerera sugar.
Once soft and well combined, beat in the egg, vanilla and soya yogurt.
Stir in the flour, oatmeal, bicarb, salt and lastly melon chunks.
Place spoonfuls of the mixture onto the prepared baking sheets (they don't spread too much so you can put them fairly close).
Bake for 15 mins then remove from the oven and cool for a few minutes on the sheets before removing to a cooling tray.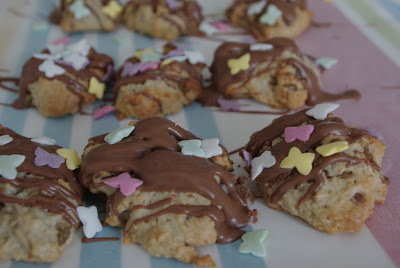 This recipe is seriously versatile - use any flavour of yoghurt you like (or plain). Chuck in 100g of pretty much anything in place of the melon chunks. Decorate however you like. It's an oatmeal cookie - it will still taste good (or that's my hypothesis anyway!).