This post should really have a sub-heading along the lines of 'using up all the little drops of dried fruit lurking a the back of the cupboard in one easy recipe'.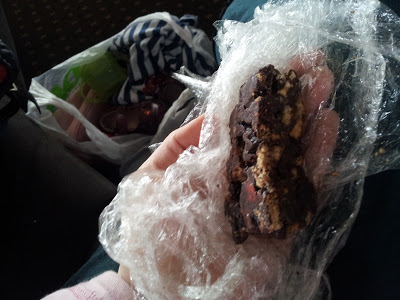 Well travelled tiffin - on the Arran ferry

And maybe one below that (but only in small writing, since it's probably of limited relevance) 'something you can make using Cubocreme, which you're not entirely sure what it is, or how you're supposed to eat it!'

So to address the second point first, what is Cubocreme. I'm still not exactly sure... it's a sticky fruity dessert syrup. It's Belgian. It's made by Geldhof Confiserie. It's dairy free. It's in the middle of some traditional sweets from Flanders called cuber dons.

It's sort of blackberry / raspberry flavour. VERY sweet.

I have to confess I used it in this recipe entirely by accident, as it was only after crushing the biscuits and chopping up the fruit that I realised I didn't have any golden syrup left. I toyed with a late night dash to ASDA but concluded it is always unpleasant therefore best left for actual emergencies. I toyed with honey, but decided it wasn't sticky enough. I considered agave syrup, but thought it was too runny. This seemed to have the right syrupy consistency. And a similar ridiculous level of sweetness to golden syrup.

Thankfully it worked - the tiffin both set solid, and tasted good. Chocolatey with an unidentifiable fruity twist, although that is probably also due in part to all the random things I threw in!

Tutti Frutti Tiffin (makes 1 large tray)


250g dairy free hard block margarine (I used Stork) (or butter, if you're feeling buttery / extravagant)
65g soft brown sugar
8 level tbsp cocoa powder
8 tbsp CubOCreme
150g Ginger Nut biscuits (Waitrose essentials are dairy free)
250g Digestive biscuits (Doves Farm are dairy free)
100g dark chocolate
400g assorted dried fruit

In my case, this comprised...


25g goji berries
20g mango
115g glace cherries
100g glace melon
55g chewy dried banana
70g dried coconut strips

In a saucepan over a low heat, melt the margarine, syrup and sugar.
Meanwhile grease and line a large tray-bake tray with baking parchment.
In a big mixing bowl, crush your biscuits with the end of a rolling pin.
Chop up your choice of dried fruit and add to the biscuits in the bowl.
When the margarine, sugar and syrup have melted, add the cocoa powder and mix thoroughly until smooth, then bring the mixture to the boil, stirring all the time.
Take off the heat and add the chocolate broken into chunks. Let sit for a few minutes, then stir until the chocolate is all dissolved.
Pour the hot melted mixture into the biscuits and fruit then stir very thoroughly to combined. Don't worry, it won't start setting in the bowl like chocolate crispies do, so take a bit of time to get it all mixed in.
Tin into the prepared tin, then take another piece to cover the surface then press down hard all over to squash it all together.
Allow to cool, then wrap in cling film and cool over night in the fridge.

Cut into small pieces, since it's pretty substantial stuff!

We took it on a weekend away with friends and 1 tray lasted 3 rounds of coffee, between 8 adults, so I guess that's about 24 pieces. I also forgot to take any pictures whilst I made it, and suddenly remembered as I was about to eat the last piece on the ferry on the way home that I'd not taken any pics of it cut and sliced either. So all I've got to show is a dodgy phone photo! But it was good enough that even despite the less than inspiring pictures, I wanted to share this recipe.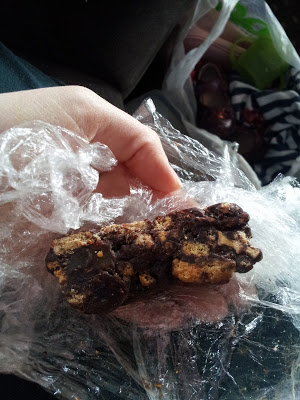 And if you eat enough of it, it's got to count as one of your five a day, right?!